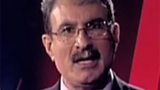 Daud Junbish
Presenter, Open Jirga, Daud joined the BBC as a reporter in Moscow in 1994 and is currently a producer at the BBC's service for Afghanistan. He holds a PhD in Journalism from Moscow State University and is the author of two textbooks for the Faculty of Journalism at Kabul University.
Blog post in total 1
Posts
BBC Afhgan Service producer and presenter of debate programme Open Jirga, Daud Junbish, reports on a ground-breaking episode which saw political leaders pledge for the first time to pursue transitional justice.