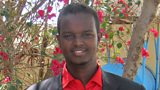 Barkhad Kaariye
Producer, BBC Media Action in Somalia, after training in journalism and law, Barkhad worked with several national and international media outlets. For BBC Media Action he has worked on radio programmes focusing on positive nutrition, hygiene and health behaviours within Somali families and communities. He now produces Dhibcaha Nolosha (Drops for Life), a radio show which aims to improve understanding about polio and challenge the negative attitudes towards vaccination.
Blog posts in total 3
Posts
For our radio show about polio vaccination, our producer in Somalia recently met an inspiring woman who – at the age of 70 – is vaccinating people against preventable diseases.

BBC Media Action's Barkhad Kaariye on why a poor widow in rural Somalia never misses tuning in to radio programme Tiiraarka Qoyska (Pillars Of The Family).

A very personal story from BBC Media Action's production assistant in Somalia about the vital need for information about maternal and child health.