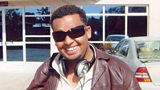 Desalegn Assefa
Radio producer and presenter, BBC Media Action in Ethiopia, Desalegn Assefa has been a radio producer and presenter with BBC Media Action Ethiopia since 2008, during which time he has been the voice and producer of Abugida, a youth magazine programme. He also presents debate programme Sileswa (About Her) which tackles contentious questions around gender.
Blog post in total 1
Posts
BBC Media Action's radio producer and presenter in Ethiopia on making honest sexual health programming for young people.