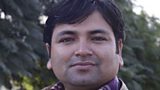 Bhuwan Timilsina
Humanitarian lead, BBC Media Action in Nepal, Bhuwan joined BBC Media Action in 2007. Before his current role, he was a senior producer on debate show Sajha Sawal (Common Questions) and editor of radio programmes about maternal and child health.
Blog posts in total 2
Posts
Three women in labour were rescued from flash floods in west Nepal thanks to a station manager trained by BBC Media Action, says Bhuwan Timilsina.

How a question from his four-year-old daughter gave BBC Media Action's humanitarian lead in Nepal a new way of thinking about his work helping radio stations prepare for deadly earthquakes.