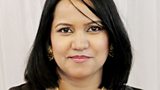 Farhana Islam
Script Co-ordinator, BBC Media Action in Bangladesh, Farhana currently works on a TV drama called Ujan Ganger Naiya (Swimming Against The Tide) which sets out to improve maternal and family health. Before joining BBC Media Action, she's worked as a radio presenter and a teacher.
Blog post in total 1
Posts
A new TV show in Bangladesh is using a drama rooted in real life to provide advice to pregnant women and their families.