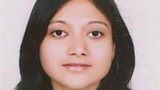 Sushama Pandey
Production Training Officer for BBC Media Action in Nepal, Sushama currently trains radio staff at local stations to improve their production skills. She has previously produced drama and magazine programmes for BBC Media Action in Nepal, including the drama Sweet Tales Of The Sarangi, which won a BBC Global Reith Award.
Blog posts in total 2
Posts
BBC Media Action's Sushama Pandey on how a radio programme helped two Dalit women in Nepal speak out for their rights and register on the electoral roll.

A grieving family succeeded in demanding police action after their son's murder in a dramatic radio debate programme in Nepal.