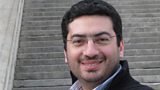 Maurice Aaek
Senior Trainer and Content Manager, BBC Media Action, Maurice is a Syrian journalist and producer, based in Lebanon.
Blog posts in total 2
Posts
Refugees, nutritionists and film-makers created a series of short 'how to' films to help Syrians living in tough conditions in Lebanon pull together quick, simple, affordable and healthy meals for their families.

 A Syrian journalist and blogger reflects on the mission impossible facing journalists attempting impartial coverage of the Syrian conflict.