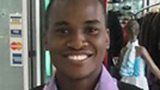 Osebi Adams
Research Officer, BBC Media Action in Nigeria, Osebi has a degree in Statistics/Computer Science and has been involved in conducting audience research and research for development in governance, human rights and health.
Blog posts in total 2
Posts
Nigeria's largely peaceful elections in 2015 stood in stark contrast to the post-election violence of 2011. What was the role of media in this change? Osebi Adams finds out.

BBC Media Action researcher Osebi Adams on how his work measures efforts to bring the governed and their governors closer together in Nigeria.