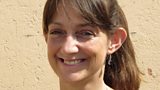 Cassie Biggs
Senior Project Manager, BBC Media Action in South Sudan, Cassie manages a radio and outreach project which follows girls and their families as they deal with barriers to education. Cassie has 20 years of experience in journalism and media development, working in countries such as China, Sri Lanka and Afghanistan.
Blog post in total 1
Posts
Great sound, simple language and one core message: key lessons from our recent training for partner radio stations in South Sudan. BBC Media Action's Cassie Biggs blogs from Juba.