BBC Media Action
Featured Post
Haruna Kakangi, Presenter, BBC Media Action Nigeria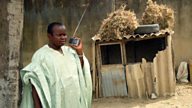 How a radio show's ultimate fan is helping improve maternal health in Nigeria.
Posts
Gaure Mdee

Producer, BBC Media Action in Tanzania

A group of young people with the Niambie team outside a youth development charity in Kahama, Tanzania.

We arrived in Kahama in north-western Tanzania on a cool Thursday afternoon. The town is home to one of the country's largest gold mines but unemployment here is high. Many people struggle to make ends meet in spite of the riches that lie hidden below the ground.

Our radio show Niambie (Tell Me) aims to give young people a voice. We had travelled to Kahama to make a show about how corruption affects them and ways in which the community can tackle the problem together. As a national corruption chief told us during our visit, 'corruption is rife and rampant here.'

In preparation for the show we interviewed young people at the offices of local youth development charity Kahama Heroes. Young people spoke openly.

They knew and trusted the Niambie presenters and wanted to talk. Many spoke about their experience of petty corruption but we found that one of the most common, and shocking complaints related to sexual exploitation, or 'sexploitation' – the abuse of power for sexual...

Mahbubul Hasan Manik

Outreach Officer

"This event helped me learn these techniques by heart" one man told me after he finished watching a demonstration of how to build a simple water filter. This knowledge will help him remove iron from his water, which can lead to serious health complications if consumed in excess. He'd just spent his Friday afternoon at a special Amrai Pari mini-festival held in Rangpur in the north of Bangladesh.

Amrai Pari (Together we can do it) began life as a television programme. It featured communities adopting low cost, replicable solutions to everyday problems caused by extreme weather and changing weather patterns.

A battery powered rickshaw

Now the season has ended, I'm part of a team staging a series of community events to encourage people across Bangladesh to discuss these solutions. We're targeting people in rural communities who might not have access to TV. Ahead of our festival in Rangpur, volunteers from the Bangladesh Red Crescent Society used this battery-powered rickshaw to visit remote parts in the region to make sure as many people as possible knew about the event.

Mukhtar Yadgar

Project Officer, Afghanistan

Ilyas Tahiri, a presenter at Radio Bamyan, skiing in Afghanistan.

Afghanistan's Bamyan province is best known for its ancient statues of Buddha, destroyed 15 years ago by the Taliban government. Today, its relative security and freezing winters are aiding the growth of a fledgling skiing industry. Mukhtar Yadgar explains how a radio station is helping local people discuss its potential for growth.

A five minute drive from the site where the ancient Buddhas...

Sandi Chimpala

Social Media Projects Assistant

Standing in a dark TV studio, Sharon Mutale poured out her heart.

"While in school I got pregnant…I was 16 years old. At that point my father stopped supporting me financially at school. He was very upset. When I met with my boyfriend I didn't know that I could get pregnant. I was so young…we were both young."

Now aged 19, Sharon hopes to continue with her education so she can get work to...

Caroline Nursey

Executive Director, BBC Media Action

It was quite something to see more than 6,000 humanitarians gathered at this week's World Humanitarian Summit – and not a pair of muddy boots in sight! We were seeking an answer to how the 130 million people currently in need of humanitarian assistance around the world can be better served.

It was good to see so many women amongst the representatives from donor governments, private sector organisations, the UN and other international organisations, international NGOs, and national and local NGOs and community groupings. And most sessions had a good mix of people speaking: (I went to only...

Alice Mbelwa

Research Officer, BBC Media Action Tanzania

Heavily pregnant, experiencing difficulties and far from any medical professionals, Adelina, a farmer from Kobunshwi in north-west Tanzania, wasn't able to get the help she needed.

Complications during childbirth led to the death of her baby and left her with obstetric fistula, which is a hole between the birth canal and bladder or rectum. This serious injury is usually the result of...

Haruna Kakangi

Presenter, BBC Media Action Nigeria

How a radio show's ultimate fan is helping improve maternal health in Nigeria.

On a Thursday morning in the ancient town of Bauchi in north-east Nigeria, I'm sitting with a group of 10 men and seven women by the side of a road in a quiet neighbourhood. The sun is bright and hot, but we're sitting on mats in the cool shade of a tree, and it seems like the perfect place to discuss a radio...

Mohammed A. Gaas

Deputy Country Director, Somalia

TONY KARUMBA/AFP/Getty Images

BBC Media Action's radio show illustrates the realities of illegal migration through drama. Exploitation by people-smugglers in Somalia is an ever-present threat, as Mohammed A. Gaas discovered.

I came home from work to find my wife, visibly worried, standing at the gate. She had news about my teenage nephew.

"Abdirisaq hasn't come home yet. Something must have happened to him. He's never been...

Abdillahi Jama

Senior Producer, BBC Media Action Somali

BBC Media Action Producer, Abdillahi with his mentee, Sakariye

Abdillahi shares the challenges he's faced as a journalist in Somalia and how training is helping improve the prospects of a new generation of journalists.

As a Somali journalist, I've seen a lot. As the 1991 civil war erupted in Mogadishu, bombs and bullets interrupted my journalism studies. Finding it impossible to finish - despite being in the final stage of writing up my thesis – I packed...