Review : Not Squares, Go Wolf, Adultrock
Radar: Not Squares, Go Wolf, Adultrock
Queens University Students Union
Thurs, 12th September 2013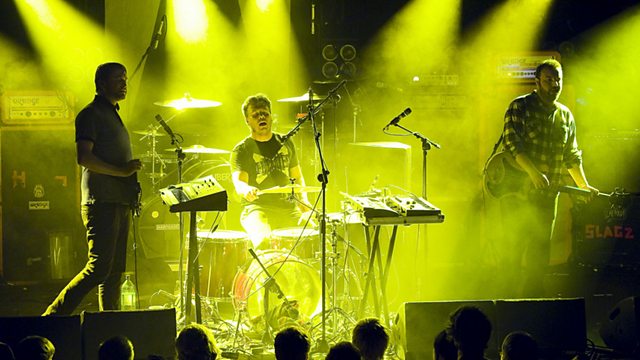 Not Squares at a previous show.
There was a relaxed, jubilant vibe around Belfast's Speakeasy tonight, as Radar productions put on their first show in months (for free I might add) with performances from Irish DJ
Adultrock
, indie-pop group Go Wolf and headliners Not Squares. With the next generation of University students on the brink of flocking to the venue through the fast approaching Fresher's Week, it was a chance for the old guard to let their hair down and dance amongst themselves one last time.
Irish DJ Adultrock's trademark pounding, bass heavy grooves had those who were on their feet nodding approvingly from the off. At times, the groove heavy bass lines were almost soothing, gently rocking the venue before picking up the pace for any climactic conclusions. Despite virtually no crowd interaction, his constant concentration was evident in every considered groove and well-timed effect. Unusually, each track seemed to be very clearly defined, as Adultrock cast aside the usual layout of a DJ set in order to showcase each individual track. You can't help but feel he lost key momentum as a result. In all, a solid set from the seasoned producer.
This was followed by Belfast's newest Indie-pop noise makers Go Wolf. The stunning synth driven four piece thrive off the pristine vocal harmonies of keyboardist Anna Leydon and guitarist Scott Jamison, who have an unmistakable Damien Rice and Lisa Hannigan dynamic. The bands rush of catchy melodies, reverberated guitar solos and harmonious vocal deliveries had the audience dancing. The highlight of the set came with the beautifully written 'Even God'. Lyrically heartbreaking, the depths of this song show that Go Wolf have the emotional fragility to complement their natural enthusiasm. They are fronting the 80's influenced resurgence with a refreshingly modern approach, taking the best of that periods synth driven pop and adding a contemporary spin to appeal to a younger generation. Go Wolf are a band worth getting excited for.
Not Squares return to the Speakeasy was like that of returning hero's, rapturous applause becoming the consistent backdrop for a now packed venue. The bands brand of electro house had so many influences it was at times difficult to know where they stand. Towards the beginning of the gig they delivered a Kraftwerk inspired synthesised showcase, which descended into a faster paced Daft Punk styled middle section and rounded off like an off kilter Depeche Mode. Don't get me wrong though, Not Squares barrage of noise wasn't at any stage poor quality. The whole venue later chanted along to every 'oh', 'woah' and keyboard note, though you could also never be sure when proceedings had drawn to a close. The band stopped and started several times in the final song, which although compelling for an infatuated audience, had this reviewer feeling that a quality ending had been dragged out by ten or so unnecessary minutes. Having said that, it only succeeded in getting the crowd pumped up further. The people had come to dance and there is absolutely no doubt that Not Squares allowed them to do just that.
Taylor Johnson