Shauna Tohill, Travis is a Tourist and More for US Collaboration & Belfast Gig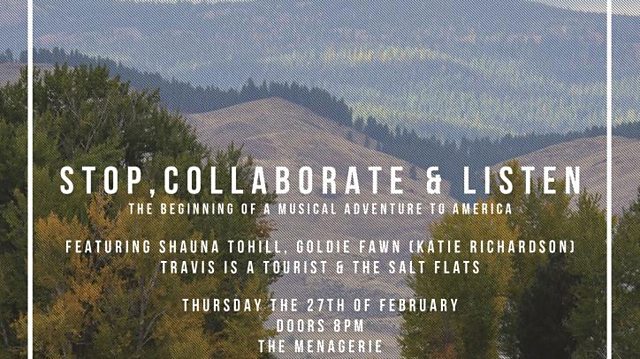 To mark 'the beginning of a musical adventure to America' the Menagerie, Belfast plays host to the 'Stop, Collaborate and Listen' gig night on 27th February.
Shauna Tohill, Travis Gilbert, Katie Richardson, Richard Hill, Thomas Camblin and Grace Loughry are travelling to Nashville to 'collaborate, record and soak up the musical heritage' of the city in March.
The Menageria gig will feature the band's of each of the artists heading to the U.S.
Shauna Tohill
,
Travis is a Tourist
, Goldie Fawn and
The Salt Flats
. In the spirit of collaboration the musicians will form one band to perform each others songs on the night, before they head to the US the following week. As well as Nashville the trip takes in Memphis and Dallas before making the journey to Austin, Texas for the South by South West festival. Video and audio footage will document their time collaborating together.