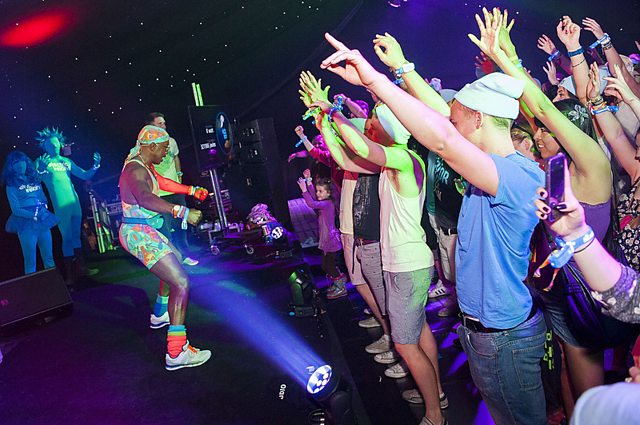 Today we decided to put together a top ten of 'stuff' we love about the picnic, for a radio feature. In two hours 'work', we learned how to cure a hangover at
Theatre of Food
, watched a gaelic rapper and tested our strength. We played a little piano, watched bands on a boat, then got propositioned by a terrifying army of green pigs. Later there was a little giant jenga and a nap in a hammock before working out with Mr Motivator. We explored a tunnel of washing machines, whirled round a carousel and applauded a wedding in an inflatable church. We saw some random band cover Ina Kamoze and Coolio, explored
Trench Town
then leanred about 3D printing.
Electric Picnic, we love you inside and out.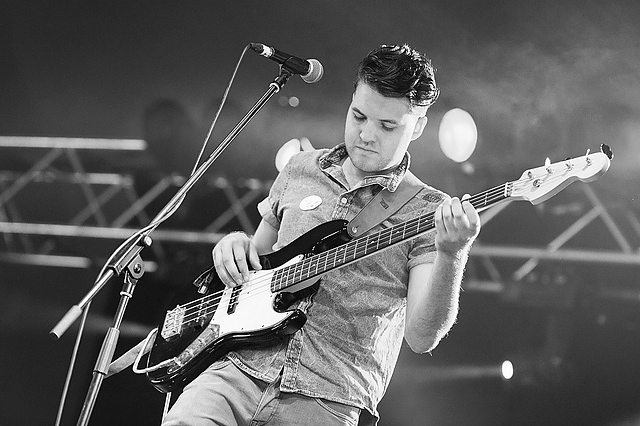 As for, you know, the music - that started with
Little Bear
. They gathered a crowd both generous and grateful for their early Sunday set, a crowd clearly taken by the Derry bands gentle, yet enormous hooks.
Silhouette
are virtual unknowns down here, doing well to drag a similarly healthy crowd in from a blast of the afternoon sunshine. Shauna Silhouette has developed into quite the front woman, owning this festival stage, looking and sounding the part for the duration. Heads tilt and fans are won over.
SOAK
is less chatty than usual for her Rankin's Stage set, letting a selection of new songs do the talking. While she justifies her place on this bill (and then some), you can't help but think it's time to call for back up - a few musicians would help keep us on board for the duration.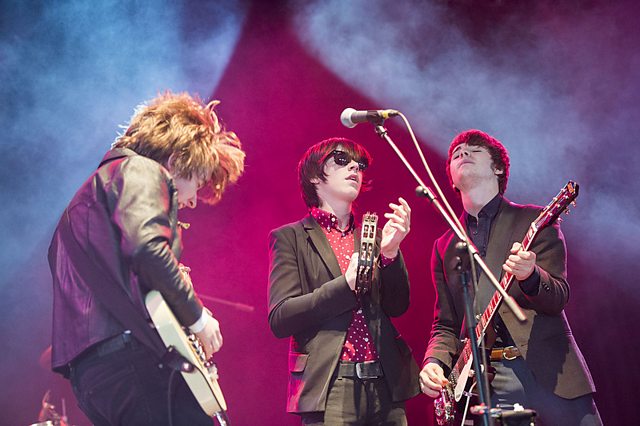 The Strypes are a curious prospect. Aged 15-17, there's no doubting the Cavan four piece can play. Like a mini Arctic Monkeys, they're laughably confidant, seemingly indifferent that they've drawn the biggest Electric Arena crowd of the weekend. A few originals give them credibility, but would we really be that interested without the novelty of watching a band so young?
Moving away from the Irish talent, and Scottish three-piece Chvrches are insisting we overdose on pop fizz. It's great fun and encourages a second wave that gets us through a surprisingly unfizzy set from Californians Warpaint. Meanwhile Eels look like a hairy Supremes - band leader E flanked by three guitarists, side by side in matching navy tracksuits. Despite allowing us only a handful of hits, Eels are a weekend standout, simply because E himself is so incredibly entertaining. He'll introduce his band by forcing them to perform a seemingly spontaneous song based around their name - hilarity ensues.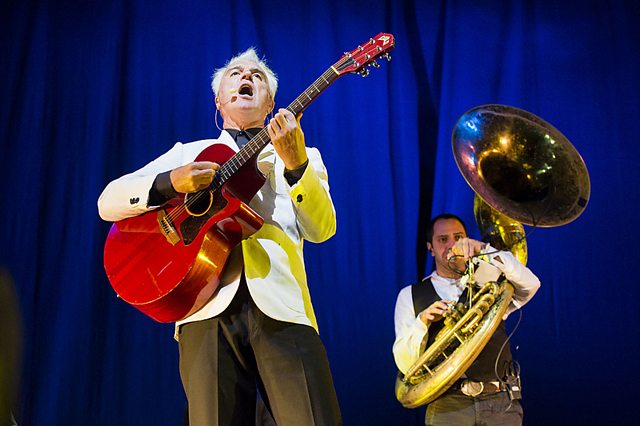 From one legend to another -
David Byrne
 is leading a marching band around the Electric Arena Stage, dancing like a maniac and performing a certain Naive Melody with St Vincent. We're losing our mind watching this, as you can well imagine. It's what this festival is all about. Moments later and
Franz Ferdinand
are buckets of fun at the mainstage. Not ones to mess about, they're delivering the hits - which essentially means playing songs that are almost ten years old. 'Take Me Out' somehow sounds better than ever, though.
Back to the Derry invasion though (they've four acts on the bill today) and Ryan Vail is playing 'There Words', a song that could and should soundtrack an art documentary about Body & Soul - the festival within a festival he was built to play. As darkness takes over on a mild evening (that's another thing, it hasn't rained), Ryan Vail is in his element. Bliss.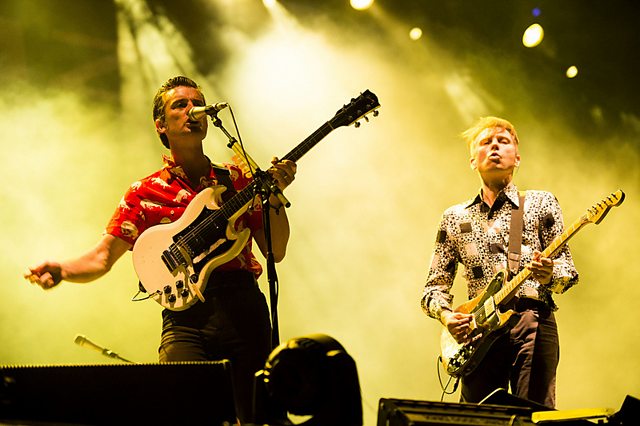 Back to the Electric Arena and
The Knife
are frying our head. Not in a good way - it's pure frustration as to just how bad this is. Imagine a cheap version of 'Stomp', performed by dancers in bin bags teaching us the rarest of dance moves. That seems to be what's going on here. Perhaps the turned a corner - but we leave after ten minutes - 
Arctic Monkeys
are nailing it on the mainstage. Headliners with a capital H these days, they've a wonderfully slick, minimal production and colossal hit after colossal hit. Alex Turner, possibly a little drunk, seems to think he's Elvis. When someone looks and sounds as cool as he does - that's allowed. Not quite the king, but definitely prince of the picnic.
Don't ever think this festival is anything other than the best in the country, if not the continent. But as we've said elsewhere, subtle changes this year remain a cause for relative concern. A level down from the headliners and the line up was a little light. As we debated yesterday, this seems justified, to an extent. But the crowd has also been a little different - younger and feistier. Hard to know why that is, but it's definitely something for those now in charge to make a note of.
The next two years, let alone the next ten, are crucial. We've proclaimed how 'we hope this festival never changes' on numerous occasions.
In 2013, that sentiment rings truer than ever.

Words: Rigsy Photos: Carrie Davenport