Review: Hornets Tour Fundraiser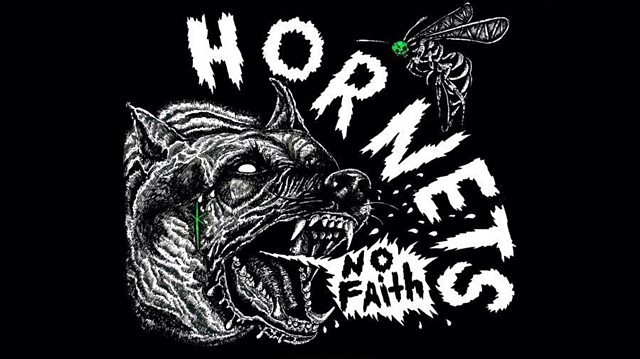 Hornets UK Tour Fundraiser: Secret Location
Support: Axis of & Small Hawk Orchestral
Everyone loves a secret location, it adds to the level of exclusivity that occurs in all social circles. Hornets got it right when they decided to have a BYO fundraiser for their imminent UK tour, with a level of kool kid kudos generally given to bands seeking out non-traditional music venues. This wouldn't be the first time for these boys, previously causing chaos at a house party gig.
It's just the second gig for newcomers Small Hawk Orchestral and the surprising grab of a microphone from an audience member, later turning out to be a band member was a good move. They are a bit of a turn up for the books and will have eyes watching their moves in the coming months, with their first two tracks released the following day for free on bandcamp. The songs seem sandwiched however, with a bit of working out to do yet, but they get a good response from the right crowd.
Axis Of, only too aware of the hardships of touring, come out to show their support of Hornets. They deliver a tight set, playing a more straight rock than the newbies Small Hawk Orchestral. Their melodic and heavy tunes are well oiled but lack some of the wild energy of the newbies. Well established at this stage, with over five years together, releasing their debut album last year and seemingly endless touring including supports for the likes of The Bronx, it's no surprise to see the crowd sing along to their favourite Axis Of songs, clearly bringing their own crowd to the fundraiser.
Hornets finally come on well after midnight and tens of people pour out from the smoking room, to watch the headline act.
With a noticeable up in the volume for the Hornets set, it is not long until there is a cleared space on the beer soaked floor for the excitable, the drunk or the brave to let out a bit of aggression on each other. As hipster punks slide around in their winklepickers, the more serious and ever so slightly older stand to the side watching the madness unfold. Sib on vocals, having a break from his standard hoarse hardcore vocals, gets right into the crowd and has a word in the ear of a particularly ballsy audience member. The tension is tangible but the band manages to pull it back with a level of control in the bedlam, playing songs from their new 'No Faith' EP.
Hornets have all the energy that they'll need for their impending tour, which will see them draw an eight shape through Scotland, England and Wales, over 10 days in March. It was a great gig, ticking pretty much every box you want, so here's hoping the Hornets can make a dent on the thriving hardcore and punk scenes elsewhere.
Emily Molloy