A Northern Light, The Unprotected, Podracer, The Big Grizzly, Exit Pursued By Bear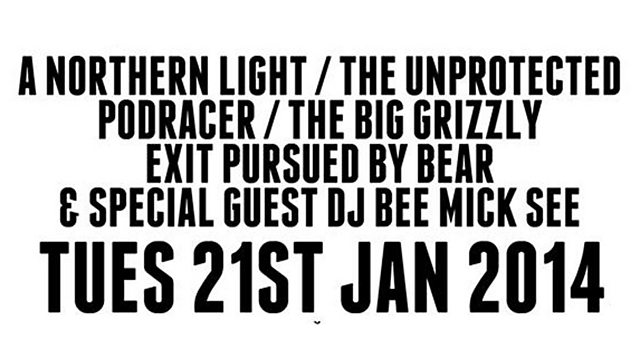 A Northern Light, The Unprotected, Podracer, The Big Grizzly, Exit Pursued By Bear
Voodoo, Belfast
Tuesday 21st January
Having made a massive statement through the success of last years big hitting single, 'Kill It', ATL couldn't wait for the opportunity to hear a fully recharged A Northern Light, as they took to the stage at Voodoo, Belfast. Opening proceedings were the atmospheric rock styling's of 'Exit Pursued By Bear'. An ambient masterclass from the Limavady boys had the audience enthralled from the off, an audacious mixture of acoustic guitar, keyboards and synth styled electric guitar completing a bold and daring sound. Frontman Michael McMacken's soaring vocals were like a young Thom Yorke, as their final song, (currently titled 'Part 2'), ended the set on an epic, Explosions In The Sky styled note. A thrilling start.
They were followed by a new look Big Grizzly, who came out of the blocks with a new, catchy style. With a fresh synth driven dimension, The Grizzly's trademark enthusiasm remained as prevalent as ever. The new vocal harmonies of Lisha Fitzpatrick and Bill Wood showcases their more melodic sound beautifully during a fun, energetic set.
Approaching their set with vigor and determination, Dundalk three piece 'Podracer' then took to the stage. Delivering a typically rocky bill, they quickly had the audience headbanging along to their heavy riffs and big hitting power vocals as they played songs from their, in their own words, 'Critically ignored' debut album.
Then came The Unprotected. Fronted by the quite brilliant St Dave, the hard rocking Belfast lads put on the performance of the night. A flamboyant display of glam rock was delivered with charisma and power, as St Dave thought nothing of jumping off stage and wildly dancing with random members of the crowd. From jumping on tables, to singing every high note like it was his last, it was certainly memorable. This shouldn't take away from the tightness of the band behind the dynamic frontman however, as The Unprotected's big hitting sound allowed such antics to continue. Brilliant.
Finally it was time for the headliners. A Northern Light's finely tuned alt-rock has won them many admirers on their way to being one the countries most promising bands, so tonight gave them a chance to showcase some new material. New tracks 'Four Feet Higher' and 'Airborne' showed their ears for a melody, beautifully arranged and with the sort of blistering, almost screamed notes A Plastic Rose have practically trademarked in recent years. Big hitting single 'Kill It' of course made an appearance mid-set, but it is the new tracks played tonight that seemed the most exciting aspect of the night. On this evidence, A Northern Lights debut album promises to be special.
Taylor Johnson