Review: FOG - Radar, Speakeasy in Belfast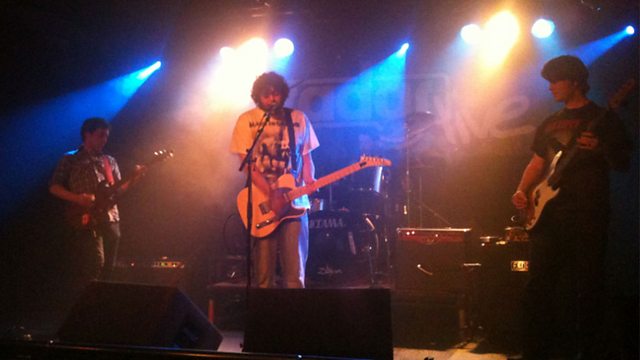 Radar: F.O.G, Bellos, Concrete Circus
The Speakeasy, QUBSU in Belfast
Thursday 24th Jan
The night kicks off relatively late with Concrete Circus who open their set with an eerie guitar riff reminiscent of a haunted funfair ride. The crowd wastes no time in letting loose and before the first beat finishes they are leaping around the floor.
The influences entwined in their music are so varied, and rarely heard together in such a way, that it makes for quite a unique sound. Whether intended or not, there are certainly some nuances of classic rock and blues, however, it is their palpable offbeat ska rhythms which create an overwhelming urge to dance.
Bellos are a relatively new three piece band, only forming in August 2012, and are grunge through and through. Taking to the stage they announce, "This is our first Radar and we've always wanted to play it so please go ****ing nuts!"
Comparisons are evident with The Pixies in terms of song structure; often using softer melodic verses contrasted with screaming choruses and enhanced distortion. However, this is not to say that Bellos are wholly derivative. In fact, their performance is exceptionally well presented for such a foundling band, as they project a collective mindset of 'influence but not imitation' which is truly apparent in their on stage performance.
During their set they play a cover of Moby's 'Honey' in their own angst-ridden style, and later the drummer encounters some problems with his bass pedal. They proudly promote their artistic talents regarding a large snow 'sculpture' while waiting for a replacement bass pedal, before finishing with 'Something in My Mind', with its dreamlike guitar over nodding drums, blasting into a raw, seething outburst for the chorus.
Just before midnight F.O.G. (Friendsofgranleese) take to stage with their fast paced rock.
Due to the late overall start to the evening, the crowd dwindles slightly at this stage but it doesn't effect the vigour with which they play. In terms of style, at times F.O.G teeters along the metal end of the rock spectrum, such as with one of the standout tracks of the night, 'Corpses'. Taken from their EP Dead to Me, 'Corpses' is reminiscent of early nineties grunge-metal crossovers such as Alice in Chains (a notion highlighted by lead singer Warren's choice of t-shirt for the night.) The band appears effortless in their performance, a quality well deserved by a group which provides a full repertoire of well-crafted, angry rock.
Radar being a free entry night means there is often a mixed crowd; no genre divide or age bracket, just people who want to see what Belfast's bands have to offer and tonight won't see many go home disappointed.
Edele Feenan