2012 - A Year in the Life of Across the Line (Oct-Dec)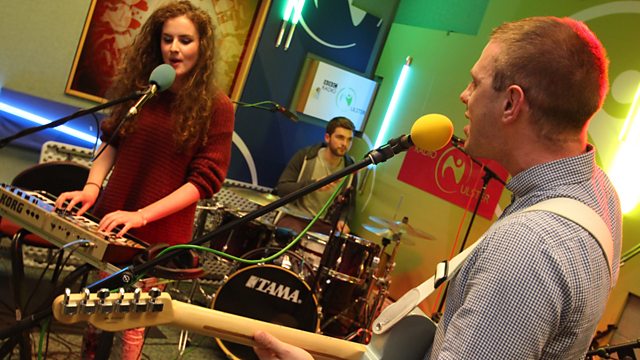 In October, we continued a run of incredible live music that would last right up until Christmas. Until just over a year ago our sessions were prerecorded, usually on a Thursday between 6 and 8, when we had a block booking in studio 8D. During one of our semi-regular meetings to talk about how we can shake things up a little, we decided to try doing the sessions live. It seemed a little bold at the time, bound to blow up in our faces. What we'd do, on a trail period, was have the musicians in for a sound check on a Monday at 6pm, but then have them perform completely live as a 'house band', chatting away and contributing to the show when possible.
It's remarkable that none of the bands we've had on since have let us down or even made (as far as we can remember) a single mistake live on air. Such blanket professionalism and reliabilty has made our lives so much easier and the shows a lot livelier. Listeners knowing what they are hearing is literally happening at that exact moment gives the performances a real edge and the reactive nature of the interviews is fun. Those October house bands by the way - Go Wolf, Little Bear, SOAK and Wonder Villains. Not a bum note between them.
NOVEMBER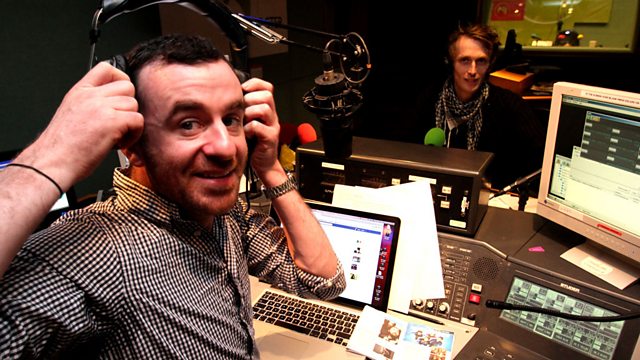 Rigsy and Dan Hegarty from RTE present a simulcast for Belfast Music Week.
November started with a WORLD FIRST, to celebrate
Belfast Music Week
. Slightly less dramatic as that tag makes it sound, granted, but it was still quite cool to do the first ever north/south radio simil-cast. In a nutshell, Rigsy did the show with a southern equivalent of sorts (the equally tall Dan Hegarty). He's from
RTE 2FM
and Across the Line went out on both RTE and Radio Ulster at the same time.
We went back to back, with the likes of RunawayGo, Pocket Blliards, Desert Hearts and A Plastic Rose representing the north while Dan introduced us to Northern Drones, Daithi and Kantor Tzar Collectif. We'd recently introduced the Niamh Nu Noise to our ranks as a southern correspondent of sorts in 'That New Band Smell', our weekly new band showcase. Our focus is and always will be the north, but at the same time ATL continues to celebrate music created in the south. As for 'That New Band Smell' - every week the standard seemed to get better. Even our greenhorn newbies were making the right noises and so many of them as well. Is everyone in this country making music?!
DECEMBER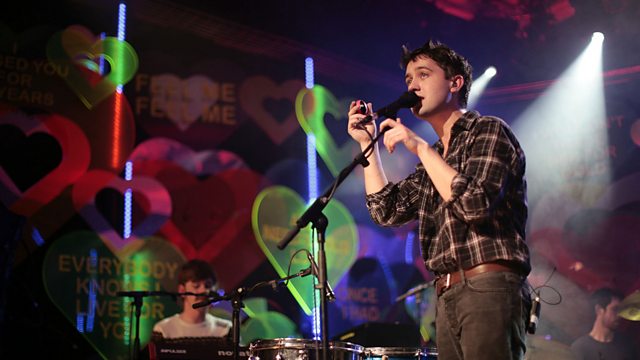 Further adventures in December as Rigsy and Paul took to the road, travelling for several weeks (or so it seemed) towards Dingle. We'd heard so much of the
'Other Voices'
event - essentially a series of gigs in and around a church in a gorgeous, curious little town in Co. Kerry. Piecing together a show to email home while stranded in a hotel with limited broadband wasn't ideal, but we've never made things easy for ourselves.
The year would end then, with us feeling very lucky indeed. Yes, the ATL Carol Service is an institution - but it still blows us away that so many well established bands are willing to learn and record a Christmas song just for us and our listeners. We couldn't be more grateful as we heard remarkable takes on Wham (General Fiasco - see below), Destiny's Child (EatenByBears), Joni Mitchel (Farriers), East 17 (The Salt Flats) and Chris Rea (Go Wolf), with Sons of Caliber, Ed Zealous and The Jepettos all reworking some standards. Why do this for us? I guess there's that legacy. ATL is 26 now - thinking about having kids and properly settling down. Yes were world weary but, as they say, the best is yet to come. Our whole life is ahead of us.
Happy new year then. It's our 27th. Thanks for sticking with us.