Gig Review: Little Bear, Go Wolf, The Couth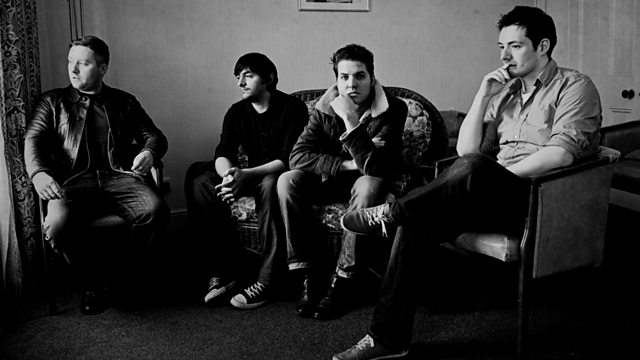 Little Bear, Go Wolf, The Couth
Oh Yeah Centre, Belfast
Thursday 30th January 2014
Joining such iconic venues as Glasgow's King Tuts Wah Wah Hut and Manchester's Soup Kitchen was the Oh Yeah Centre, the Belfast venue having been chosen as one of the spaces for 'Independent Venue Week'. With a line-up of three of the country's most promising bands, ATL couldn't wait to sample the great show on offer.

Anthemic, vibrant, rock and roll opens proceedings as Lisburn's The Couth took to the stage. Front man David McCrum oozes the sort of confidence necessary to front a band of The Couth's attitude and edge. Throughout their set, they show glimpses of the sort of abstract madness The Libertines thrived on, and debut EP track 'Unnoticed' particularly resonates with the indie crowd which had gathered. Despite a slightly fragmented opening, The Couth grow stronger, the songs introduced as future EP tracks sound refreshing and filled with passion. In all, their commitment, chemistry and likable stage presence compliments their current back catalog; there's a sneaking suspicion this band will only get better.

Before long they were followed by Go Wolf, who are playing to a particularly sentimental home crowd tonight, as the Oh Yeah Centre's influence on the bands formative years is stressed in their introduction. A typically 80's influenced, electronic set is brimming with the indie-pop hooks of a band peaking very early in their musical career. Lead singer Scott Jamison showcases his ease behind the microphone from early on, thinking nothing of wandering off stage and into the crowd during the opening number. This nonchalant act of showmanship serves as a brilliant reminder of the bands growth as performers and the tight unit on display tonight. 'Even God' is the highlight of a strong set, with its gentle intro as 'a love song' and its flawless performance managing to elevate proceedings effortlessly.

Finally, along came Little Bear. The folk tinged four piece put in a stunningly gentle performance, more than justifying their headline slot. Playing off their ambient sound, Little Bear's three part harmonies, soothing key board overlays and ingenious harmonica style melodies simply captivate the entire venue. Little Bear are the sound of a long, dreamlike, car journey and the closest thing we have in this country to Seattle's Fleet Foxes, typified by the haunting 'I'd Let You Win'. The highlight, however, comes from the beautiful 'Second In Line', which has the venue jumping as one for the first time all night. A special moment, led by a truly special band, as the Oh Yeah Centre eruptes in a flurry of hand claps and spontaneous dancing.

A great end to a proud night for Belfast.
Taylor Johnson