The digital year was characterised by an explosion of fake news and unsettling evidence of the power of social media to distort the truth and influence behaviour. New tech developments excited and challenged the news media on a seemingly daily basis. So did journalists keep up, and what can they take away from an extraordinary 12 months? Here's what some practitioners, experts and Academy bloggers, told us: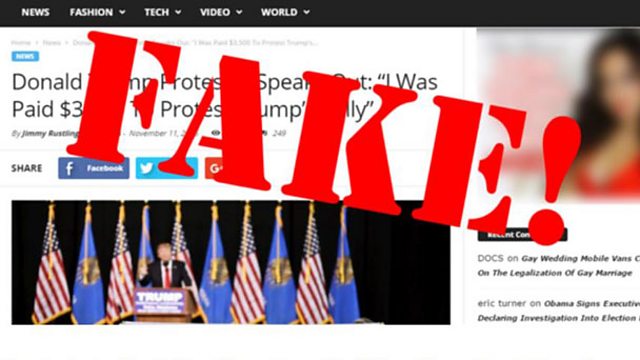 A story about payment to Trump protestors was one of many fakes shared on social media
Mark Frankel, social media editor, BBC News
2016 has reinforced our belief that there will always be severe limitations to social media algorithms. As journalists, unfiltered access to news is vital.
Sue Llewellyn, social media consultant and trainer
The dominance of "post truth" news, where facts have been less influential in shaping public opinion than manipulative appeals to emotion and personal belief, should be a wake-up call for journalists.
Now more than ever we should get to grips with the psychology of social media and human behaviour. Concepts like homophily, confirmation bias and emotional triggers will help us get to the truth by understanding exactly what makes people like, comment and share - especially fake news.
Listen more carefully and look outside your echo chambers. Create or refresh Twitter lists to include both trustworthy and less reliable (propaganda/fake news) sources i.e. follow notable fakers by using private lists. Turn on notifications or alerts. Double check your privacy and security settings.
Question everything, polish your verification skills and keep up with specialist advice from the likes of @FirstDraftNews, for instance.
Nick Garnett, digital innovation reporter for BBC Radio 5 live
I've had to adapt a lot in 2016: I now shoot video first and think about radio second. It means more kit, more up-skilling (which used to be known as 'learning') and more worrying. This year, as I've set up, shot, interviewed, recorded, edited and filed my own stuff I've learnt the very painful lesson that the more kit you use, the less time you have to concentrate on the story.
Things will improve as my skills improve but shooting more and more video gives me less and less time to hear what my guests are saying so I'm having to work twice as hard to try and make sure the journalism stays relevant.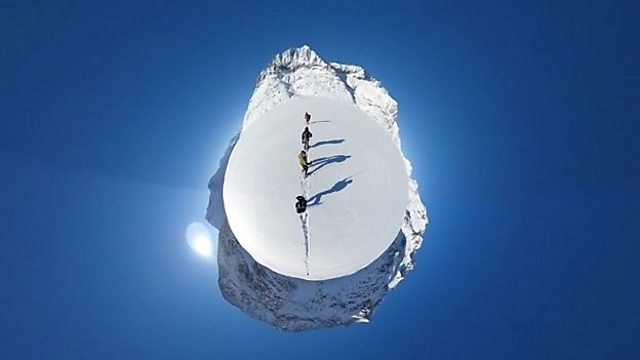 360 video, like this view of a Swiss glacier by BBC Click, was one of 2016's tech challenges
Ramaa Sharma, editor for digital pilots and skills, BBC News
Some lessons, many more questions. Fake news only strengthens the need for a public service provider on the web. While Twitter might break the news, research shows people still come to the BBC News site to check if news found on social media is true. So how do we retain or create spaces where people can sense check what they read and see? What does the rise of the 'article' page mean for this sort of behaviour and the BBC?
Many organisations and individuals have got better at 'optimising' for social media. What will we have to do in 2017 to cut through? Is creating new experiences around content the answer, or new forms of storytelling for the web?
Esra Dogramaci, BBC digital consultant and City University lecturer
If you work in the digital journalism space and want to get things done, you need to break the rules. And if you are going to disrupt, you will be unpopular and can only achieve success with strong leadership support behind you.
Also, journalism schools are insufficiently preparing students for the ever increasing reality of a digitally-based media future landscape
Paul Bradshaw, writer and professor of journalism, Birmingham City University
I spent most of 2016 designing a new MA in Multiplatform and Mobile Journalism, and writing the second edition of the Online Journalism Handbook. What bad timing. Every few months I had to rip everything up and start again.
The pace of change has been relentless this year: my students were making bots and VR, getting to grips with Apple News and Amazon Alexa, AMP and Instant Articles - and all of that on top of, you know, those old-fashioned reporting skills like data mining and JavaScript and Snapchat. My poor students. My lucky students. What did 2016 teach me? If you think you'll have a chance to catch your breath in the next five years, think again.
Damian Radcliffe, professor of journalism, University of Oregon
Local journalism isn't dead. I've consistently heard this from small-market newspapers in the US, not least because the information needs of communities are seldom met by social networks and local TV. The business model remains challenging, but optimism - based on news gaps, local ad markets and a grassroots presence - prevails.
… and some very human lessons for BBC foreign correspondent Anna Holligan
Tears tell stories. Tear gas fired by riot police saw them streaming down our cheeks in Calais. A single tear emoji appears when a Syrian friend from Aleppo messages with news from home. This summer my baby girl arrived with a life-affirming, tear-free cry - a whole other discovery.
Read part one of this blog, on the lessons learned from Brexit and Trump.
BBC Academy blogs by:
Mark Frankel, Sue Llewellyn, Nick Garnett, Ramaa Sharma, Esra Dogramaci, Paul Bradshaw, Damian Radcliffe and Anna Holligan.
Mobile journalism strategy: Ramaa Sharma
Twitter tips for journalists: Q&A with Mark Frankel
Social media tools: Sue Llewellyn