Dougal Shaw has been filming with his smartphone instead of his normal camera for one month. It's a personal challenge he's calling a #mojodiet. Here is the second instalment of his diary chronicling the experience: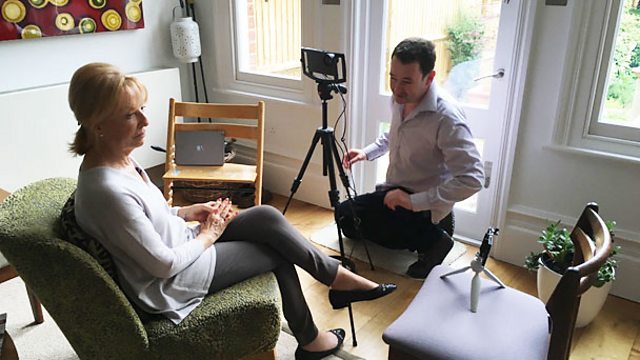 Dougal Shaw rigged his 'mobile phone symphony' of three devices to film Angela Laws.
16 June
Today I went on a trip to Founders Forum - an exclusive event for tech entrepreneurs just outside London. Everyone from Jimmy Wales of Wikipedia to Eric Schmidt of Google was there. My mission was to grab some famous faces for the CEO Secrets series.
I set up my smartphone on a tripod in a garden behind the conference centre. The still clouds gave me nice, even light and the first interview, with Mumsnet founder Justine Roberts, was soon in the can - or rather in the iPhone's camera album.
Right next to my spot was a cameraman with traditional, heavy broadcast kit. He looked sceptical about my nimble mobile arrangement.
I asked him jokingly if I could convince him to go mobile, but he was having none of it. "Nah, the quality isn't as good," he said curtly, as he de-rigged.
I explained to him the idea behind the #mojodiet. He stayed quiet, but I wasn't sure if he was actually listening. As he left he said, without looking at me: "If everyone does that there will be no work for people like me."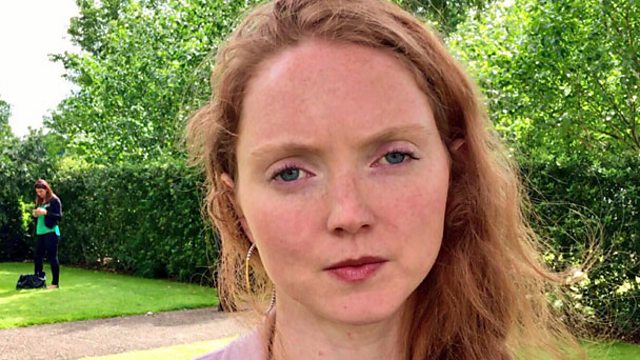 On that sour note I hit the free buffet before heading back into the throng of the conference where I managed to buttonhole Lily Cole, the supermodel-turned-entrepreneur (above), for the next contribution. I felt I needed to apologise to her about using a humble mobile phone. As a veteran of countless interviews, I worried she might think I was a plucky vlogger instead of the BBC News journalist I said I was. "Of course," was her simple response. She didn't bat an eyelid.

19 June
This was the day that the story about Manga and autism was published, which I covered in my previous diary. The story did even better than I expected, getting 400,000 hits on the BBC News website and more than 1.5 million on BBC News Facebook.
The reach and resources of the BBC meant the contributor even alerted me to a Japanese version of the video that I didn't know existed. It suddenly struck me as amazing that something I'd filmed with the tiny camera in my pocket was now being viewed on hundreds of thousands of similar mobile devices around the world.
'Phone to phone', or 'pocket-to-pocket', journalism was the phrase that immediately popped into my head - in either case, P2P. Maybe that will catch on as a way to describe this new kind of journalism. (You read it in this diary first.)
23 June
I thought I'd try something really ambitious - a mojo diet showstopper. Luckily a story came along that presented an ideal opportunity to try out my plan.
I organised an interview with a woman who has come out of retirement to be a social media manager at the age of 70. She works for an internet start-up that organises pet-sitting and I went to film her while she was cat-sitting in Barnes, south London.
I filmed the main interview part of the film as a 'mobile symphony' (top image and below).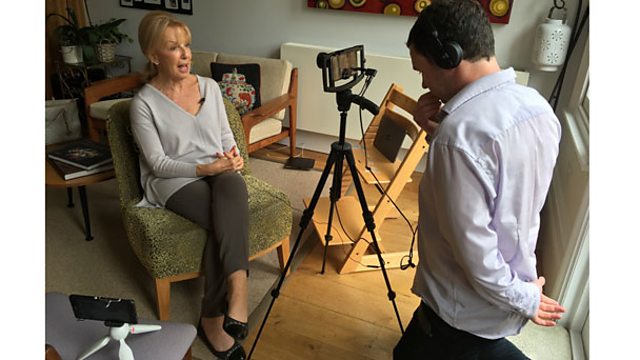 Camera number one, which she looked straight into, was my usual iPhone 6S Plus. On my subject's left I balanced an iPad Air on a small chair. Installed with the Filmic Pro app, I left it recording on a generous wide shot. This was in case my subject moved around, because I wouldn't be able to monitor it.
On her right I placed my Sony Xperia Z phone, which is at least three years old but films in HD. Stable on a mini tripod, I left it running on another generous angle, using the native camera app.
As Angela Laws, the contributor, was looking directly into the camera, this arrangement did not 'cross the line'. If she had been looking off camera, which is more normal, this set up would not have worked in the edit.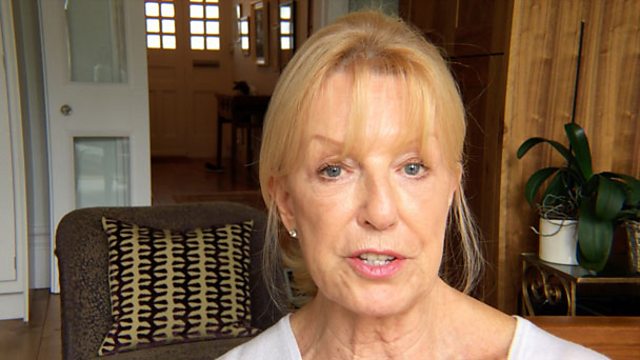 A 4k wide shot of Angela.
In fact, as my iPhone 6S Plus was filming in 4K, it was actually almost like I had four cameras. The extra pixels you capture mean you can crop a very tight shot in the edit (below) without compromising resolution - giving you, in effect, two shots. This method also uses up a lot of memory on your phone, though.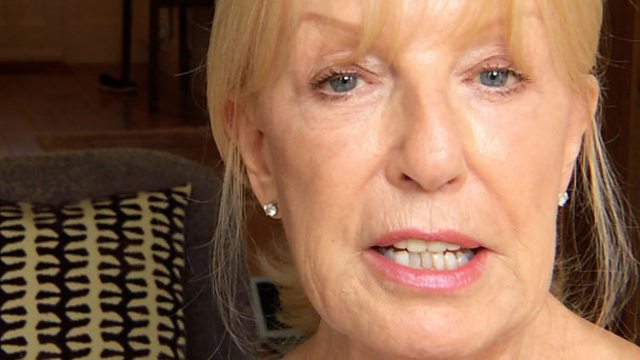 You can see the result of the filming - including a funny moment when a cat decided to investigate the Sony camera!

24-28 June
The result of the EU referendum meant it was all hands on deck for a week in the Business Unit. I didn't have time to film any features. Instead I was busy editing 'explainer' videos covering the impact of the fast-moving Brexit story. This involved using mainly off-air video content, archive and stock footage.
29 June
After the initial shock of Brexit had run its course I had the chance to pitch a feature that reflected on the issues thrown up by the referendum. I do a series called My Shop, profiling small independent shops, so I decided to visit a Polish shop in an area that had voted 'Leave'. This took me to Peterborough.

Maybe the full-on work created by Brexit was taking its toll but this was a filming trip that revealed to me some of the drawbacks of mobile filming. I tried shooting in 4K again but this time the light wasn't good enough.
You really need exceptional light for it to work and I just had the artificial light in the shop's storeroom. It was hard to judge during filming without a viewfinder, though I had some niggling doubts the shot (below) was softer than I was happy with at the time.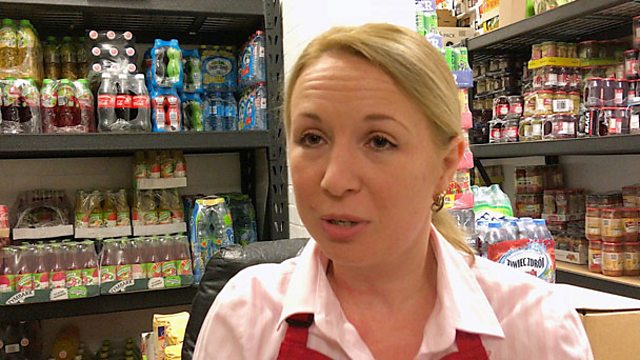 Outside, the rain fell sideways and was relentless - but I needed exterior shots. Unlike my normal camera, the phone's lens has no protection.
Reviewing the footage back inside the shop, I realised that rain had hit my lens and I'd have to brave the elements again to get the sequences I needed. This time I used my waterproof to shield the camera - getting only myself wet in the process.

Then in the edit I got a shock about sound. I had a buzzing noise in a lot of my GVs (general shots of the location). This is usually the result of interference from the phone's signals (wi-fi or contact with the mobile network). You can usually eliminate these by putting the phone on airplane mode. I must have forgotten to do this after I made a call.

Finally, I also managed to not film something I thought I had filmed! This is easier than it sounds because the record button on the app is touchscreen rather than an individual button offering physical feedback.

Despite these issues I was pleased with the way the film turned out. As well as running online, where it got more than half a million views, the feature ran on BBC World News television and the audio was used by World Service for a show called In the Balance.

Switch to mobile?

As the diet came to an end, I was still haunted by the wounded words of the cameraman at Founder's Forum: that mobile filming meant a compromise on quality - and ultimately a threat to the professional camera operator.
It reminded me of some of the early animosity levelled at video journalists (many of whom are producers who have learned to shoot and edit later in their careers) by people who are full-time camera operators or editors.

But I don't think mobiles represent a threat: far from it. In fact, it is because of the rise of mobile phones that there is now more demand than ever for people who know how to film. There's a seemingly insatiable appetite for video content both from media outlets and the corporate world.

And while I think it's great that the ability to film in quality has passed to the hands of the many, it still takes a dedicated, professional person to make the most of what these devices can do - certainly to make them good enough to run on TV.

It sounds selfish but the biggest incentive to go mobile, I've found, is the ability to travel light. If you've tried lugging around camera and tripod bags for any length of time you will understand this.
Going mobile means I can fit everything I need into one fairly light rucksack. This nimble arrangement has a practical impact on where you can go, how quickly, and therefore what you can film.

The small camera also allows you to pick up surprising angles when filming, especially when you put the camera on a long stick or tuck it into a small space.

However, the lack of zoom is a big factor.
It's fine for someone like me doing features where you can usually control your environment, but if you were in a fast-moving news situation that could be a deal breaker.

In fact, I bet there is an optical zoom attachment you can buy - there are hundreds of attachments and wires you can order online to improve the quality of phone filming. But the problem is the more you invest in these the more of a faff it all becomes. And this defeats the purpose and beauty of mobile filming: simplicity.

One final thought. An article that influenced my diet was one about BuzzFeed's strategy towards mobile filming for social media. The quote that stayed with me was: "Nobody has ever shared a video because the sound mix was perfect." In other words it's OK to compromise on the quality of the video for social media as long as you don't compromise the story.
While I agree with that it's also true that nobody is going to share your story on social media just because it was filmed on mobile. It might intrigue them when they see you doing it. But when it comes to consuming it people don't care how it was made - it's irrelevant. Choice of story, not choice of kit, remains the most important thing.
Part one of Dougal Shaw's 'mojo diet' diary
The Academy's section on filming and recording, including on smartphone
Academy blogs by:
BBC smartphone reporting specialist Marc Settle, who offers a fuller guide to working with a range of smartphone apps
Mobile journalism specialist Nick Garnett