Dr Kate Murphy, former Radio 4 producer and author of 'Behind the Wireless: And Early History of Women at the BBC', spoke at a special 'Women in Radio' celebration event yesterday remembering the life of former Woman's Hour editor Sandy Chalmers.
In this post Kate picks out some of the women who have inspired her, giving an insight into an organisation that was remarkably progressive in its attitudes towards women.
Mary Somerville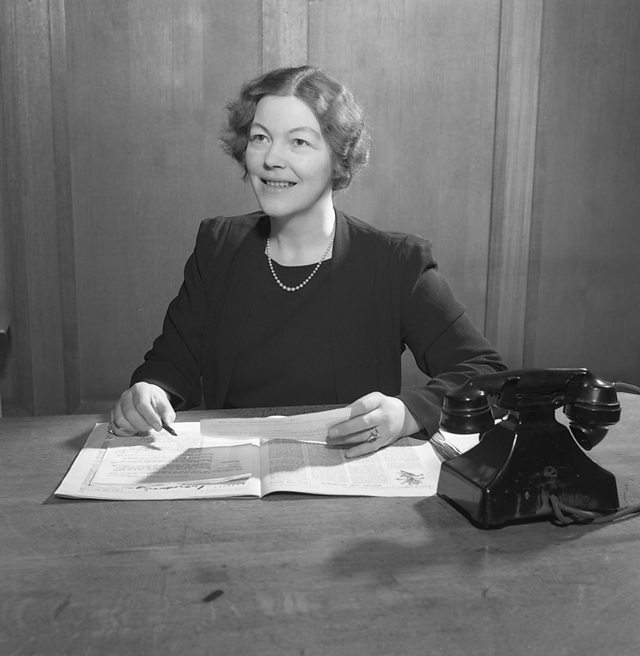 In 1924, Mary Somerville, an Oxford University student, heard by chance the first BBC broadcast to schools. She was inspired and wrote to John Reith (then Managing Director of the BBC) who arranged to meet her. He was highly impressed, noting in his diary that he had been visited by a 'very clever and self-confident young lady'.
The following year, Mary Somerville arrived at the BBC. She initially worked as an assistant in the Education Department but within a few years she was Director of School Broadcasting, a position she held until 1947. The interwar years were notorious as a time when married women were discouraged from working outside the home and many organisations and professions enforced marriage bars. Mary Somerville was not only able to continue at the BBC after her marriage in 1927 but when, the following year, she announced she was pregnant, the BBC introduced maternity leave so that she could keep her job.
Hilda Matheson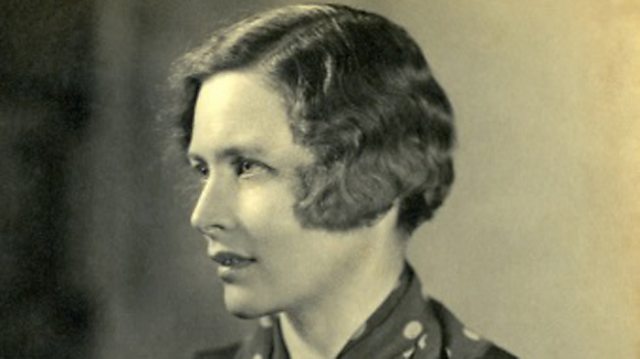 Hilda Matheson was head-hunted by John Reith, who persuaded her to leave her job as political secretary to Nancy Astor, MP, to come to the BBC. She became the first Director of Talks in 1927, a very important job at a time when all spoken-word programmes were 'live'- because recording techniques were so rudimentary.
An intellectual, with links to the Bloomsbury set, Hilda Matheson enticed the grandees of the day to the wireless, people like HG Wells, George Bernard Shaw and Virginia Woolf. She was also passionate about enlightening women listeners and started programmes such as The Week in Westminster in 1929. This was originally aimed at women who had just gained the vote (the Equal Franchise Act of 1928 had finally extended the vote to all adult women) and all the speakers on the programme were initially female MPs.
Elise Sprott
Elise Sprott first came to the attention of the BBC in 1924 when she gave a talk on 'Continental Fashions in Food' on an early programme called Women's Hour (not to be confused with today's Woman's Hour). She then joined the BBC as a Talks Assistant and worked with Hilda Matheson for several years, prompting the introduction of important daytime series for women listeners such as Household Talks and Morning Talks.
In 1931 she took on the new job of Women's Press Representative which was all about getting BBC women into the newspapers and promoting the BBC to women's groups. An avid motorist, she drove hundreds of miles each year to talk to women about the BBC.
Gweneth Freeman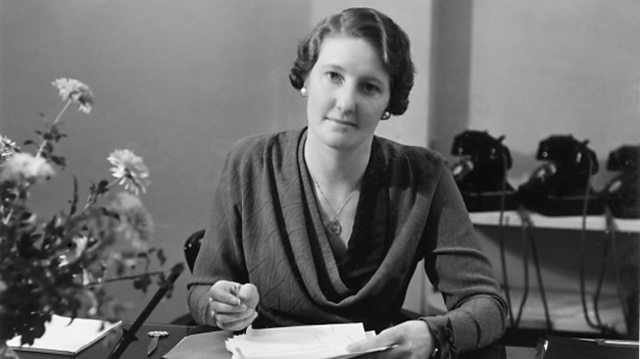 Most women who worked for the BBC in the 1920s and 30s were in secretarial and clerical roles. At the BBC they were overseen by the Women's Staff Administrator, from 1932 this was Miss Freeman.
Miss Freeman had a lot of power as, not only did she have responsibility for recruitment, but she also made decisions on starting pay, wage rises, promotions, and which office you were placed in. She also insisted on high levels of decorum. Hats and gloves, for example, were to be worn to work, and always stockings, even on very hot days.
The BBC Club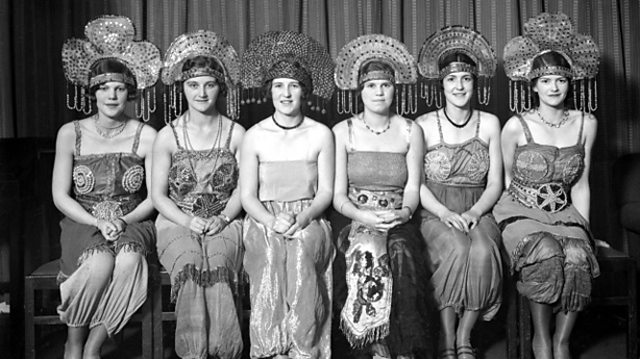 It was not all hard work at the BBC, there was also a lot of provision for staff welfare including a vibrant BBC Club. By 1929, this included a purpose-built sports ground and Club House with extensive facilities at Motspur Park in Surrey, 'so complete in every respect – from plunge bath to parquet floor'.
As well as the much anticipated staff dance, a great many regular activities were on offer from netball and motoring to a debating society and chess. The Amateur Dramatics Society was also very popular - this photo is for a production of Dick Whittington in 1930.
The General Office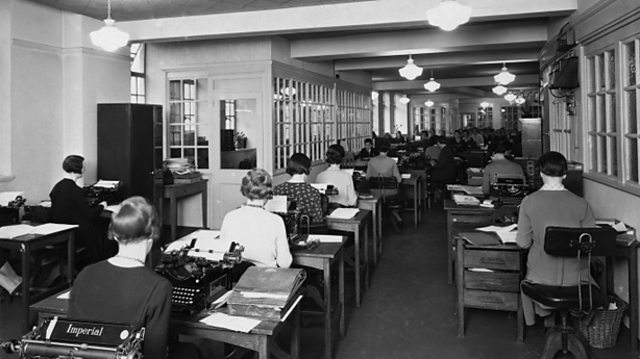 All female secretarial staff who joined the BBC started in the General Office where their capabilities were assessed. Here they were inducted into the BBC way of doing things, such as of where to use full stops and commas, how type-writer ribbons should be requisitioned and the procedure for posting letters.
The photo above was taken in 1932, just after the BBC had moved into the grandeur of Broadcasting House. Secretarial staff with initiative, who were seen to be loyal and able, could rise through the ranks to the salaried grades, where earnings were far higher and treatment far better.
Doris Arnold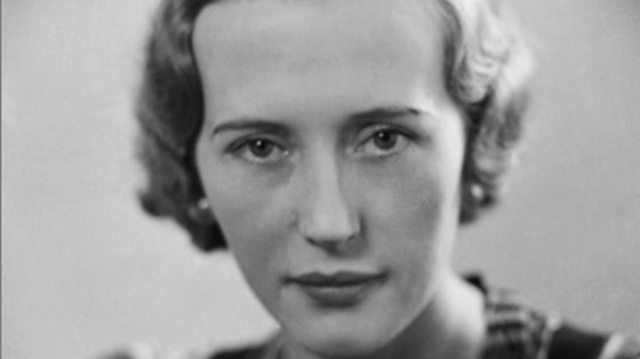 Doris Arnold is the most famous example of a woman who rose through the ranks. She started as a typist in the Stores Department in 1926 when she was twenty two. In 1928, her great skill as a pianist was spotted and she was offered a new position as an Accompanist in the Music Department. She went on to work on many of the BBC's key variety shows and become a well-known celebrity. By 1938 she was producing and presenting her own gramophone record programme, These you have Loved, which she fronted until the 1960s. This makes Doris Arnold the UK's first woman radio DJ.
Isa Benzie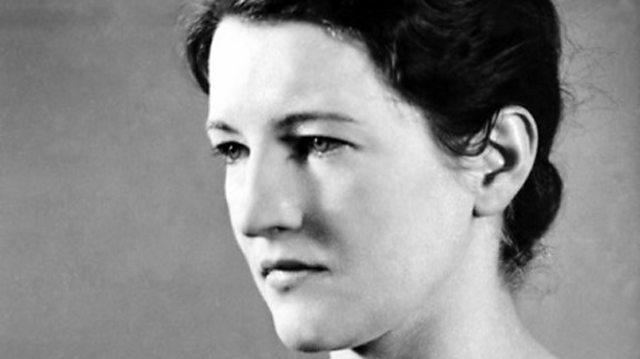 Isa Benzie also started at the BBC as a secretary, in the Foreign Department in 1927. Her abilities were quickly spotted and she was soon deputising for her boss, Major Atkinson. When he retired as Foreign Director in 1933, Isa Benzie took on the job, making her the third woman to hold a director-level post at the BBC in the interwar years.
The job was principally about creating and maintaining good foreign relations. One newspaper marvelled at Isa Benzie's ability 'to ring up New York, Sydney, Calcutta or Cape Town as casually as you and I call a taxi' another described her work as 'a job that would intimidate many a man'. In 1938, she made the decision to leave the BBC when she married, although she would later return and would play a key role in establishing the Today programme.
Olive Shapley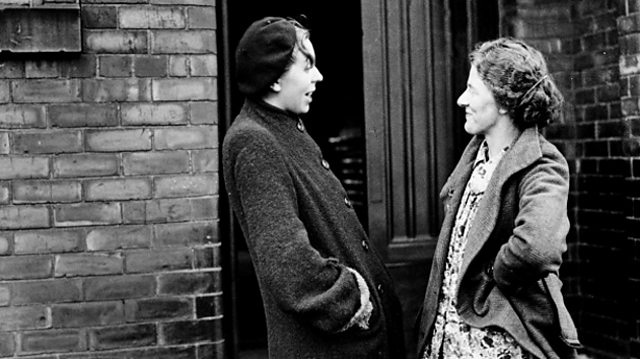 Olive Shapley's BBC career started in Manchester in 1934, when she was recruited to oversee Children's Hour for the North Region. In 1937, she became one of the first producers of social documentaries and a pioneer of the Outside Broadcasting van which she used to gather material from 'real' people, which was very radical for the times. She made programmes on homelessness, on twenty-four hours in a big hotel in Scarborough, on canal workers, on long-distance lorry drivers all programmes you could imagine on radio or TV today.
She also made a programme on miners' wives - that's her on the left in a wonderful photograph with Mrs Emerson, a miner's wife from the Cragshead colliery in Durham. Olive Shapley had what was then considered to be the extraordinary thought of taking Mrs Emerson to meet her counterpart in a mining village in France where they stayed for a week, and then Mrs Emerson recounted her impressions on-air. So, the idea of comparing lives/ swapping lives which is now taken for granted, has very deep roots.
Charwomen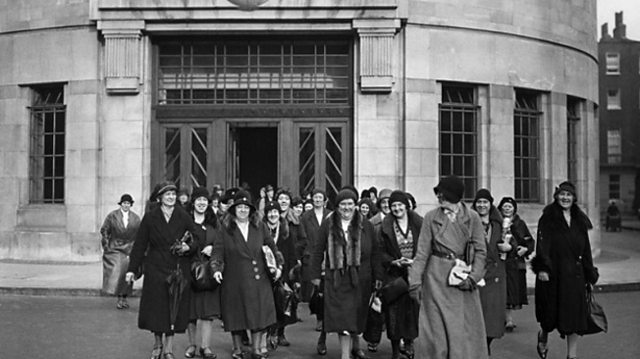 I love this photo of charwomen leaving the BBC. It was one of many 'action shots' that were placed in the press, overseen by the Head of the Photographic Section, Kathleen Lines (who frustratingly never had her photo taken).
The caption in Radio Pictorial in 1934 called them 'a happy band of cleaners' and I think they do look happy, and very well turned-out. The BBC was a desirable place to work and offered good wages for the time. It was also touched by glamour. In 1936 more than 2,000 women were on the waiting list to be charwomen.
Dr Kate Murphy is Senior Lecturer and Programme Leader, History, Bournemouth University