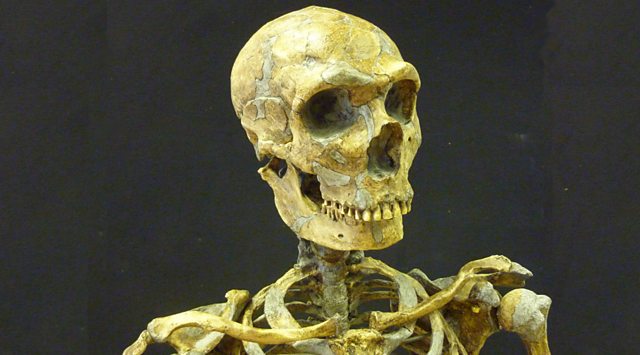 Prehistoric Autopsy Uncovered is a special exhibition which offers visitors to various centres across the UK the opportunity to get closer to the models used in the TV programme. BBC Outreach Learning's Angela Roberts spared some time ahead of the exhibition launch, to explain what's been involved in staging the event. 
Our team - Outreach Learning - first got involved when our programme making colleagues in Specialist Factual here in Glasgow told us they were making a fantastic new programme on human evolution. The programme – Prehistoric Autopsy – would recreate prehistoric characters – a Neanderthal, a Homo Erectus and an Australopithecus Afarensis - and unveil them each night on the show. 
After the production phase of the programme came to an end, the three bespoke silicon models (along with their re-articulated skeletons!) made for the programme were handed over for us to take on the exhibition tour.  These models formed the centre piece of the exhibition: a really exciting opportunity to interact with 'the characters' and learn more about the new evidence that continues to be found on evolution. 
Given the popularity of archaeology and forensic science programmes, we wanted to give our 7-12 year old audience the chance to identify their own 'finds' if at all possible and quickly decided to develop activities and games to appeal.
Next, working with museums across the UK who were keen on exploring this subject matter further, we decided on launching the exhibition during half term, reckoning this would be the ideal time to bring the models to as wide an audience as possible. 
But bear in mind that even such things as recreating prehistoric characters come with some sensitivities.  Neanderthals didn't wear clothes – how would our visitors feel about seeing a naked 'man' being on show?  Would parents bringing their younger children along consider this inappropriate?  The same question has continued to get raised, most recently when looking for ways of getting the exhibition featured on BBC Breakfast: would we need a loin cloth for our Neanderthal? A fur skin? Or would we have to rely on the sofa being high enough to mask his modesty? 
We're really hoping that our visitors enjoy the exhibition we've mounted across the country – you can see the dates below. It's one of the more unusual tie-ins we've worked on with our colleagues in television and look forward to hearing what people think of our work. 
Angela Roberts is Broadcasting Coordinator, BBC Learning 
The three-part series of Prehistoric Autopsy goes out on at 9pm BBC One, BBC One HD and BBC HD on Monday 22 November  
Prehistoric Uncovered is hosted at these venues over the coming weeks: 
Birmingham Thinktank – 22-25 October
Manchester Museum – 27 – 30 October
Great North Museum Hancock, Newcastle 1-4 November
National Museum Cardiff – 8-11 November
Horniman Museum London – 14-18 November
National Museum Scotland – 23-25 November 
Book sessions to hear the programme's adviser Dr Isabelle De Groote explain more about the prehistoric family featured in the series.