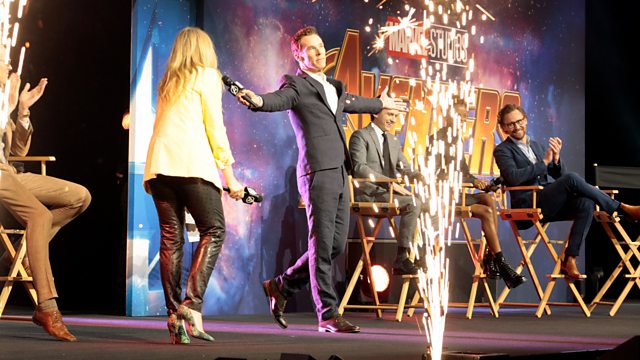 Television Centre hosted a red carpet event for Avengers: Infinity War
Tomorrow, 1 September, marks a momentous occasion in the history of BBC Studioworks as it's a year to the day we reopened the doors to arguably the UK's most iconic broadcasting building – Television Centre (TVC) in London's White City.
The move marked a doubling of the company's studio footprint and means that TVC is once again home to some of the nation's best loved and most watched TV shows.
The redevelopment of TVC has been four years in the making, hence there were many last-minute nerves, coupled with great anticipation, excitement and then the taste of success when we hosted our first production, ITV1's The Jonathan Ross Show, in our biggest studio, TC1.
The fact that our first production was not a BBC show reflects our position as a commercial subsidiary of the BBC, which provides TV studio and post production services to all the major broadcasters and independent production companies.
The autumn of 2017 proved to be an incredibly busy period at TVC as we facilitated over 160 episodes of television in our first three months of opening. Shows included Strictly Come Dancing: It Takes Two for our sister company BBC Studios, BBC One's Pointless, new music show Sounds Like Friday Night, and a debut production for Sky One – The Russell Howard Hour.
As we came up for air, the first half of 2018 marked another exciting era for us as we welcomed another new commission in the form of Channel 4's The Big Narstie Show. We also facilitated BBC One's The Graham Norton Show, BBC Two's Mock the Week, Channel 4's The Last Leg, as well as a host of specials. And, as from last week, The Great British Bake Off: An Extra Slice began recording its fifth series with us.
In April, we welcomed ITV into the fold as Television Centre became the temporary home for ITV Studios' Daytime shows, Good Morning Britain, Lorraine, This Morning and Loose Women, while ITV's London HQ is being redeveloped. This means 20 episodes of live television every week across these titles alone.
Over the past year we have facilitated 25 different shows at TVC, totalling over 620 episodes of television, over 480 of which have been broadcast live.
In addition to creating memorable television, our studios offer truly unique venues for corporate functions. We have hosted several high profile events including the red carpet fan event for Disney's Avengers: Infinity War, the Founders Forum opening gala dinner and an internal launch for BBC Studios to mark its merger with BBC Worldwide.
I would be the first to admit that bringing TVC back to life at the same time as maintaining our other operations at Elstree wasn't easy. But, as the above proves, TVC is back and is as ground-breaking as ever.
TVC has been well received by the production community and we're incredibly proud to be celebrating our first year in operation from such an iconic site. It has become a powerhouse for creativity once again, and we are all excited about the future!