A Big Year for Big Screens
I was very pleased to hear about the Royal Engagement and am sure people will love watching the Royal Wedding on our Big Screens. People tell us, time after time, that they enjoy coming together to share an experience with others who have a common interest. Even when events such as rugby and football games are available on television, there's nothing quite like the atmosphere you get as part of a crowd.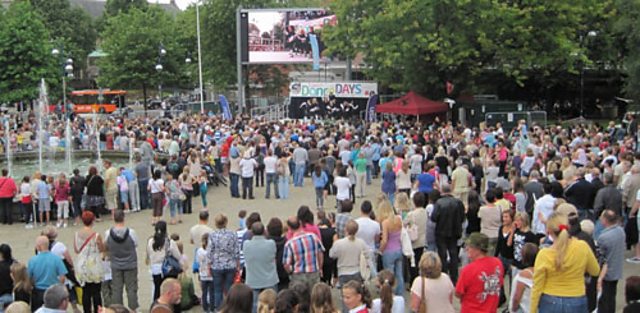 http://www.bbc.co.uk/blogs/aboutthebbc/taliesindancedays.jpg

Back in the Summer I was telling you about some of our Big Screen events and our partnership with London 2012 and local authorities. But it doesn't stop there. We're constantly developing new partnerships in local communities. The screen is a digital community canvas. One example of a recent collaboration is with the National Screen and Sound Archive of Wales. We're able to showcase some really fascinating stuff. Viewers watching Big Screen Cardiff can now see footage of the city centre in the 1930s and 1970s. How things have changed! Everything seemed to be displayed in the shop windows in those days. For the locals, going back in time with the Big Screen, is a fascinating journey. The films revisit parts of Cardiff which have been totally transformed, including the old Tiger Bay, made famous by Dame Shirley Bassey. Around a third of the Big Screen's airtime is dedicated to local films, made by local people. You may have seen recent pictures of Swansea, marking Armistice Day, on UK television news. The Royal British Legion returned to the city for the second time to host Silence in the Square. Its sister event at Trafalgar Square is now in its fourth year. Both events were integrated, via the Big Screen.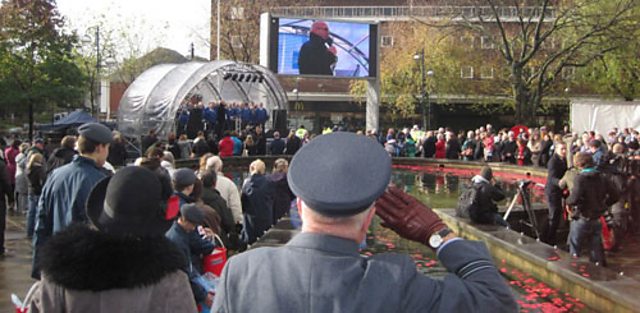 http://www.bbc.co.uk/blogs/aboutthebbc/silence.jpg
The audience enjoyed performances by The Saturdays, local singers and Sarah Lark, finalist of BBC's I'd Do Anything. It was a very moving experience and after total silence fell on the square, people placed poppies in the fountain. It was a poignant scene.
I'm always amazed how people of all ages react to our interactive games shown on screen. It's fascinating to watch the reaction of people as the screen often stops them in their tracks. Using a motion-sensitive camera, audiences are thrilled to see themselves on city centre screens, responding to the demands of the games. I must tell you about our recent Children in Need Big Screen Quiz in Cardiff. People watched short television clips and answered questions based around magical moments from Children in Need.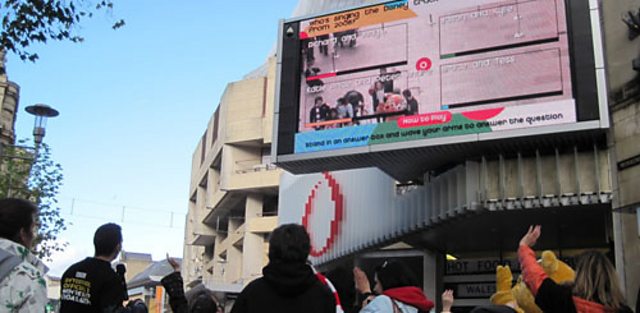 http://www.bbc.co.uk/blogs/aboutthebbc/cin1.jpg
There were 4 possible answers for every question, each represented by a box on screen. You then had to stand within the relevant box to register your answer. Cardiff played against big screens in the other nations, with competitors based at Norwich, Edinburgh and Derry.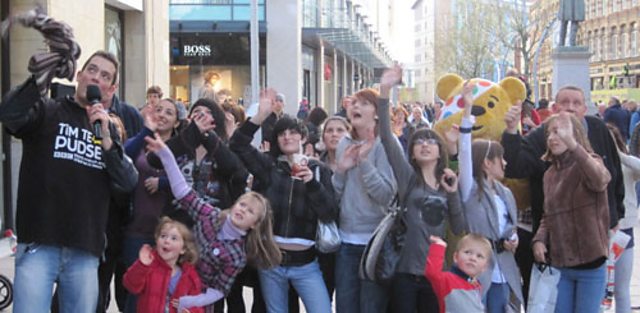 http://www.bbc.co.uk/blogs/aboutthebbc/cin2.jpg
You only have to look at people's faces to realise they were having fun. As well as playing games on screens we've been able to give students a platform to develop their own games and interactive ideas.
People love taking part in our events and enjoy watching others appearing on screen. We recently hosted a Strictly Come Dancing event in Swansea, giving locals a chance to take to the dance floor. Karen Hardy recorded a special dance routine for the Big Screen, which people were able to perfect on the ground. Local dance experts also stepped in to delight the crowds.