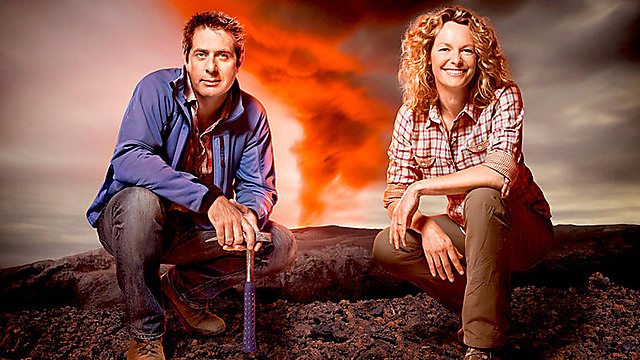 Lisa Ausden is the Executive Producer of Volcano Live, an exciting new series of programmes broadcast from Kilauea on Big Island, Hawaii. In this post for About the BBC, she writes about some of the challenges the production team faced in making the programme.
The best live TV, in my experience, is led by event. Your location, and what's happening at that location is critically important. Volcanoes are pretty awesome when they're at full throttle, and many are in remote locations. That makes it logistically difficult, and very expensive to contemplate a live show, as there is a lot of kit and quite a few people involved.
Although there have been programmes about volcanoes before, live is a new concept. It's a logistical challenge to pull it off, so you have to find a volcano that you can get to safely and relatively easily. This is stating the obvious, but you can get two flights into Hawaii, drive for an hour, and there is our volcano. That's one hurdle cleared.
Once there, we are not only setting up a complex broadcast operation in an extraordinary location. You need to look after your team, who have to sleep and eat, as well as work. That's hard if you are in the middle of nowhere. Fortunately, at Kilauea, there is a military holiday camp with accommodation and catering, all very close to our location by the crater.
And then there is our incredible subject matter. There was a statistic that surprised many of us when we started work on Volcano Live. There are twenty volcanoes erupting at any one time, somewhere around the globe ... and in a world first, we will be standing right on top of one of them, broadcasting live.
Kilauea, on Hawaii's Big Island, is the most active volcano in the world and has been erupting constantly since 1983. The beauty of Kilauea is that it's a relatively benign volcano - it doesn't tend to erupt violently - it oozes lava quite slowly. This means it is accessible and relatively easy to study, making Hawaii a centre of world expertise for volcanology. It's also a tourist attraction and the whole place sits within a national park.
The volcano is bristling with cameras, so we'll be able to keep an eye on everything that's happening, including the extraordinary lava lake, which bubbles and steams in the crater, day and night. In fact, we'll be creating a volcano "hub", allowing us to plug into the technology used to monitor volcanoes all round the world. So whatever's happening, wherever it's happening, we'll know about it at our hub in Hawaii.
The beauty of the live shows across consecutive nights, is that the viewer really can feel they have an opportunity to get involved. As well as explaining how volcanoes work and showing some quite incredible footage from all around the world, we will be welcoming questions from the audience, with our own expert, Prof Iain Stewart on hand to answer, plus an impressive array of experts on location in Hawaii.
But that's not all. The live blog which is going to run on nights nights one and four of the programme, with a featured scientist on our team each night on hand to answer viewer's questions directly online. So, if they send in questions to volcanolive@bbc.co.uk, even if their question doesn't make it on air in Hawaii, the scientists will try to make their way through them all in London.
A real opportunity to talk direct to two of the world's leading volcanologists: Clive Oppenheimer, Reader in Volcanology and Remote Sensing at the University of Cambridge, and Jon Blundy, Professor of Petrology at the University of Bristol. They both feature in the series, on expeditions to Antarctica (Clive) and Dominica (Jon).
Closer to home, keen walkers will be interested in a Radio Times pull out section, detailing volcanic walks around the UK. We may not be an actively volcanic place now, but parts of Britain certainly were in the past.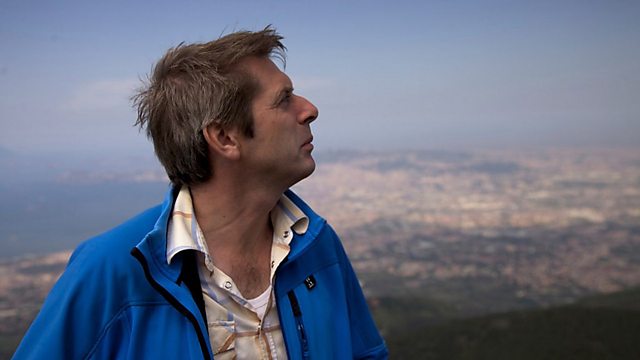 Before arriving in Hawaii, both Kate Humble and Prof Iain Stewart have been on their own volcanic filming adventures, and these will feature across the four nights. Volcanoes are a passion for Iain and he's particularly familiar with Italy. He heads to the Naples area to explain how the shifting tectonic plates have created the volcanically active regions of Italy. At Vesuvius, scene of the AD79 eruption which engulfed the towns of Pompeii and Herculaneum, Iain reports on the cutting edge technology being used today to try to predict the next big eruption.
Kate's been filming in Iceland, another extraordinary volcanic landscape:.... Eyjafjallajokull is the volcano which erupted in 2010. Kate travels to the summit and discovers why the eruption produced an ash plume so huge, it grounded flights across Europe. She also takes an incredible journey not up, but down...into the magma chamber of a dormant volcano. Our cameras travel with her and I can guarantee the footage is simply breath-taking.
Kate and Iain will be in Hawaii before the live broadcasts, making some films and getting to know more about the scientists who study Kilauea and the park rangers who look after the extraordinary landscape, flora and fauna of Big Island. They'll also be introducing films made for us by expeditions to the Democratic Republic of Congo, Chile, Antarctica and Dominica.
Hawaii isn't quite as far away as you can go from Britain, but it is more than 7,000miles, and right in the middle of the Pacific Ocean. The time difference is 11 hours, which has its logistical pros and cons, Hawaii being 11 hours behind the UK. So a transmission time on BBC2 of 8pm is in fact, 9am in the morning Hawaii time.
The time difference means we will be showing off our incredible locations in daylight. It also presents a whole set of challenges around rigging, de-rigging, rehearsals, eating and sleeping for the team in Hawaii. We are upping sticks and moving location for every show. This means, for example, that when we come off air after the first show at 10am Hawaii time, we need to de-rig, move to our next location, set up again and rehearse before breaking for the day. This is because we would not have time the next morning to "block through" and do a full dress rehearsal before going on air again, because it would not be light enough, early enough. Our days will start very early and finish early too. Our OB truck, or "scanner", in Hawaii is apparently a converted horsebox. Looking forward to that!
And then in London, there is a separate gallery in TV centre. If you're wondering why, well, you always have to have a Plan B, and as Hawaii is our sole location, we have to think about the unthinkable. And if we lost the satellite connection, London would need to take over.
Have I mentioned the Hawaiian weather? Contrary to what you might think... and you are thinking sunshine and surf.... Big Island, Hawaii is the wettest place in America. It rains more days of the year than it doesn't, and for varying amounts of time. It can also be misty. And it can be windy. Are you reminded of anything else? Like the great British summer!
Volcano Live begins on BBC Two and BBC HD at 8pm from Monday 9 July 2012.
Read about Volcano Live volcanologist Lorraine Field dramatic career transformation on the BBC TV Blog.
Read more information about the series in a press release on BBC Media Centre website.
Join the conversation about the programme by using the hashtag #VolcanoLIVE
Follow the live blog on the Volcano Live website during the programme on nights one and four.