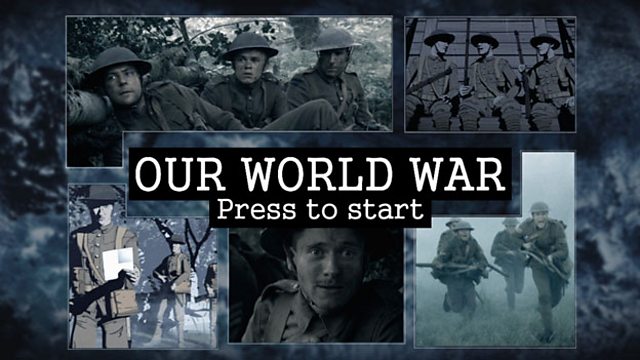 Today we see the launch of a very exciting innovation, commissioned by BBC Learning, an experiment in immersive drama which is a world first – I want to use this blog to tell you more.
We have just passed the 100th anniversary of the start of World War One - a series of powerful commemoration events have reminded us of the sacrifices of those who went to fight and those who stayed behind, contributing to the war effort on the home front.
As you look at the photos of the soldiers who signed up, you can't help but be struck by how young those involved were. As we look into their faces 100 years on we often ask ourselves one question; "What would it have felt like to have fought in WW1?" Answering that question was the challenge BBC Learning set itself when thinking about how we could use our new digital platform iWonder to support the major new BBC Three drama Our World War.
Working closely with the team who produced the main television drama, BBC Learning commissioned an entirely new format, an interactive fourth episode that puts audiences right at the heart of the action.
Set in High Wood, a particularly bloody battle of the Somme in 1916, the story follows a young corporal leading a small group of soldiers struggling to survive. Split over three acts, the interactive episode gives control of the corporal's decisions over to the audience, challenging them to make choices that affect the lives of the men around them. These choices will change the course of the story, but they also carry hidden value as each decision is being measured as a series of scores that define how well each viewer performs as a leader.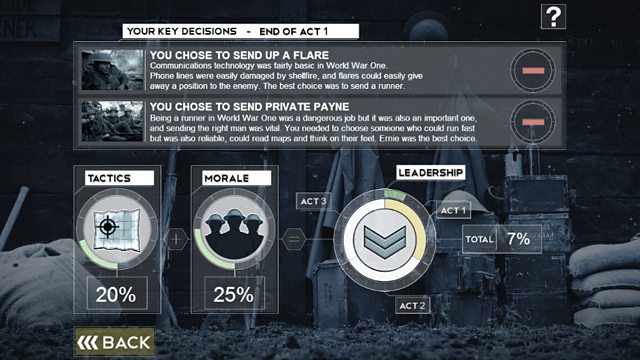 Taking inspiration from the gaming and interactive media industry, including the now iconic Walking Dead and Operation Ajax, we wanted to experiment with creating a new format that could bring audiences even closer to the story. Audiences will have to make difficult decisions against the clock… and every second counts. We hope this mechanic will fully engage them in the story of these young men and also let them move seamlessly from viewer to participant, giving them an active role in the storytelling.
To create the interactive episode we have merged broadcast quality film footage with the visual grammar of gaming and animation in the form of digital "motion-comics". By using techniques found in modern gaming experiences we have set out to create something very new, a hybrid between a TV programme and a game experience – an interactive drama.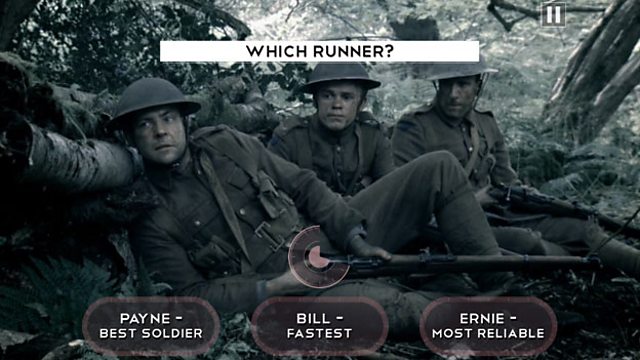 This hugely innovative project is a BBC North based partnership between BBC Learning and Open Games teams working with MI, an interactive games agency based in Salford – you can read more about how that team developed this from my colleague Will Storer in the Open Games team who is writing a blog post tomorrow (Friday 15 August) for the BBC Internet Blog. 
This is a real first for the BBC and we hope this pilot will inspire creative communities inside and outside the BBC to think up new ways of delivering drama to an audience who demand higher and higher levels of interactivity. I'd love to know what you think, check out the episode and please do leave me a comment below.
Tim Plyming is an Executive Producer for Science and History in BBC Learning