I don't think I can add anything else to the much-deserved praise of the coverage of the London 2012 Games - both the Olympics and the Paralympics.
Every extraordinary performance was captured and distributed brilliantly by networks at the very top of their game, but perhaps we ought to single out BBC Radio 5 live - the only station to cover the whole lot - both huge events - from top to bottom with their customary authority, insight and colour.
We are proud of BBC Radio 5 live's achievements, in particular of course because they are at the heart of our sport and news operations recently installed in Salford. Equally crucial have been the BBC Sport technology and news teams at MediaCityUK that ensured that our website, interactive applications and red button BBC services played such a crucial part in reaching over 90 per cent of the UK's population - an astonishing feat.
We have been fortunate here at BBC North - our London Olympics' legacy includes the essential digital inter-connectivity that will sit at the heart of the Glasgow 2014 Commonwealth Games and the Rio Football World Cup in the same year, among the many huge sports events already in the pipeline.
I am not sure anything in the next short while will feel quite as monumental or spectacular as The London Games. But already we are on course to deliver some innovative and striking events and seasons this autumn across the region.
On Saturday I was in Sheffield for the first in the BBC Philharmonic Presents festival that will also see us visit Bridlington, Bradford and Bradford in collaboration with the BBC's radio networks.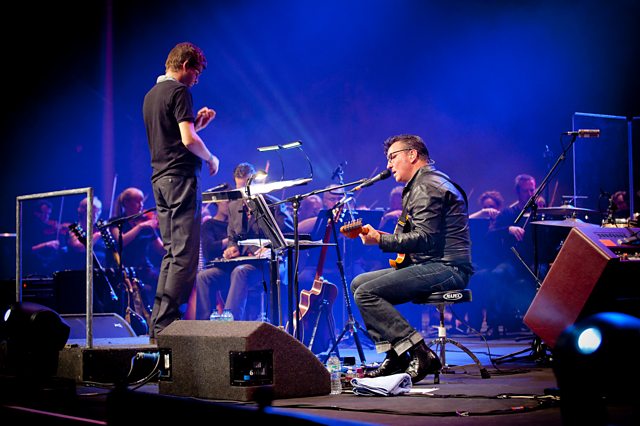 Richard Hawley with the BBC Philharmonic Orchestra
At Magna Science Adventure Park concertgoers saw local guitar legend and singer/song-writer Richard Hawley perform with our brilliant orchestra for BBC 6 Music. Next month we will be back in the same city for Radio 5 live's Octoberfest, when the whole station moves to South Yorkshire for several days of broadcasting.
Starting tomorrow in Salford we will host two days of striking debate and discussion when the first ever RE:THINK 2012, our religion and ethics festival, opens with sessions on topics as diverse as religion versus science, morality in EastEnders and The Arab Spring. There will also be an interview with Liverpool's Anglican Bishop James Jones, whose panel is reporting on its Hillsborough tragedy deliberations. The latter is the subject of a striking documentary just shown across the North West and Yorkshire and available on iPlayer.
As important, story-telling remains at the heart of great television and we have been working hard with drama and comedy colleagues to make big series right across the North of England.
Just one year since our move the results are beginning to show. You are probably riveted by Good Cop right now, Stephen Butchard's Thursday night BBC One project made in Liverpool. Coming soon is Sally Wainwright's next drama series from Manchester's Red Productions - Last Tango in Halifax was shot across Lancashire and Yorkshire and stars Derek Jacobi and Annie Reid.
And watch out for Jason Cook's sitcom Hebburn, set in Newcastle, for BBC Two, starring Jim Moir and Gina McKee. All that plus Northumberland filmed kids' dramas Wolfblood and Stockport-made 4 0'Clock Club both for the CBBC channel.
Finally, running shoes are at the ready for the Great North Run this Sunday from Gateshead produced by BBC Sport - the very teams who were at the heart of broadcasting this wonderful summer of sport.
Peter Salmon is Director, BBC North 
Follow @AbouttheBBC on Twitter for further updates