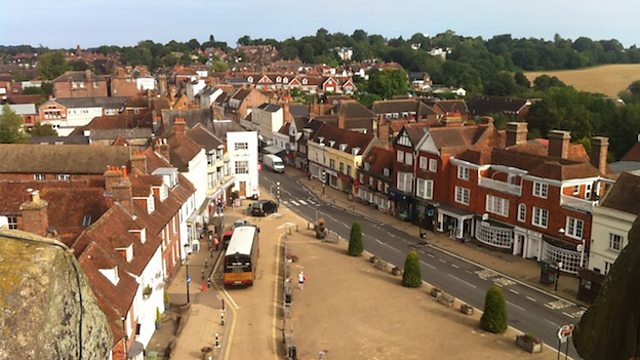 The view from the top of Battle Abbey, one of 30 locations the BBC Sussex production team have broadcast live from during the station's 30th anniversary tour in September.
To mark the 30th anniversary of BBC Sussex, the station has embarked on a 30 day tour broadcasting live from across the county. Assistant Managing Editor, BBC Sussex and BBC Surrey, Mark Carter reveals the how the idea for a county-wide tour was brought to life and provides a potted history of the station.

I first mentioned the idea of marking the 30th anniversary of BBC Sussex in January. Back then, it seemed like the obvious thing to do but as with any good idea, you never quite appreciate how much you are taking on until you actually get stuck in.
The history of BBC Sussex is complicated. We actually started off life as BBC Radio Brighton in 1968, but it was 22nd October 1983 that the service expanded to cover the whole of the County for the very first time. So what could we do to mark this? A birthday cake? Bring back some of the original presenters? There were plenty of thoughts along these lines and these will all happen in October, but we wanted to do something that would take us out of the studio, meeting both existing and hopefully some new listeners along the way. And so the idea of the "30 Day Tour" was born: 30 places in 30 days – one for every day of September.
Having drawn up a list of towns and villages and put them in some semblance of order, the next task was to get the relevant permissions to be there. Easy enough, you might think, but lots to do, from arranging parking and permits through to getting a good mix of guests to talk about each of our featured destinations.
Then it was time to brief relevant members of the team. First port of call was a man who spends his working life travelling around the County – our BBC Sussex Breakfast reporter Simon Jenkins. Fortunately, and with almost no bribery, Simon loved the idea and offered to help in any way he could. I signed up Simon to be the main voice of our tour and he is attending almost every one of our 30 locations. Simon is accompanied each day by broadcast assistant Janina Rout, who has been involved in the station for much of the past 30 years in one form or another.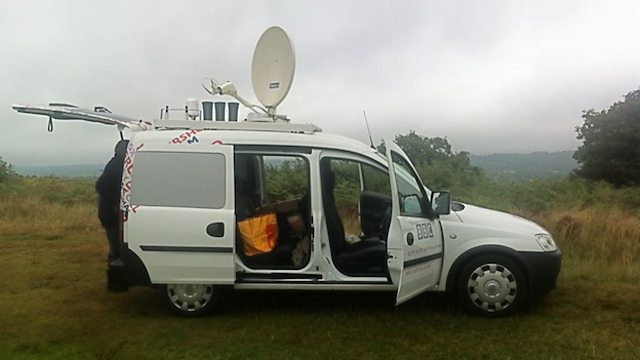 The team setting up in Ashdown Forest.
We started the tour on day one with a blessing from the Dean of Chichester. The Cathedral plays host to the BBC Sussex annual carol service each year, so it seemed the perfect place to begin our journey. Since then, we've already been to Horsham, Battle, Littlehampton, Billingshurst, Eastbourne, East Grinstead and Herstmonceux, meeting some fantastic characters every step of the way. And at each stop, the passion local people have about where they live has been unwavering.
Writing this blog as we approach the end of our second week, there's a real buzz around what we're doing at the radio station. Listeners are calling in with their local facts, there is plenty of activity on our Twitter and Facebook pages, and we've been working with the online team to produce some special content for the BBC Sussex website too. The challenge for me is to maintain the momentum but I get a real sense that our team and our listeners are enjoying being part of the tour and that there is plenty of excitement still to come.
Mark Carter is Assistant Managing Editor, BBC Sussex and BBC Surrey.