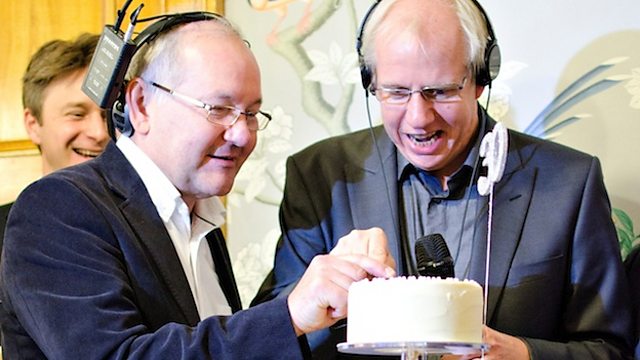 Piers Bishop, first breakfast presenter on BBC Sussex, and Neil Pringle, current breakfast presenter on BBC Sussex cut the birthday cake
To mark the 30th anniversary of BBC Sussex, the station embarked on a 30 day tour, broadcasting live from across the counties, in September. Assistant Managing Editor, BBC Sussex and BBC Surrey, Mark Carter follows up his
mid-September blog
, reflecting on the tour and the anniversary.
The month of October has arrived and it's a mix of emotions. The 1st October signified that our "30 Day Tour of Sussex" was finally over. We had crossed off 30 towns and villages in Sussex, one for each day of September, all to mark 30 years of BBC Sussex.
On the one hand, there was a sense of relief that this huge logistical exercise was now at an end, but at the same time, a sense of pride at what had been achieved. During the course of our tour, we encountered some wonderful characters, all with a real passion for their local community. We met plenty of existing listeners who turned up to say hello and to thank us for the service provided by our radio station. That's incredibly satisfying. But we also met lots of people who've never tuned in to BBC Sussex before and will hopefully have now given us a listen for the very first time.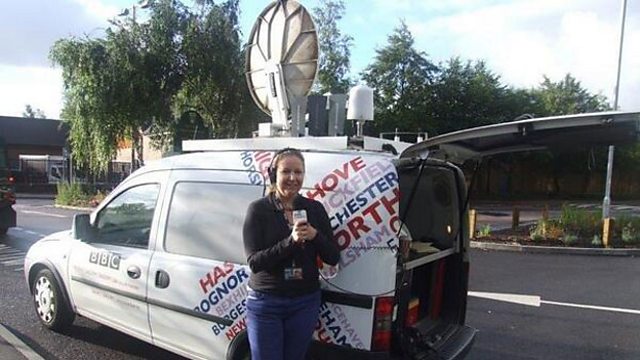 Reporter Julia Moore, live on location in East Grinstead
There are too many highlights to list all of them here. For me personally, I loved the experience of broadcasting live, and on each day, whether in the studio or on the road, I learnt a lot of new things about the area that we broadcast to. I present our Saturday Breakfast programme, and like on our weekday Breakfast Show with Neil Pringle, I was asking our listeners to contribute their quirky facts and connections about our featured locations. During our stop in East Grinstead, for example, we discovered that the singer and reality star Peter Andre owns a coffee show in the town. On the same day, we also heard from a listener who had been treated at the local hospital with a skin transplant, and also a double mastectomy and reconstructive surgery. Despite her obvious personal struggles, she simply wanted to come on-air to say thank you to the doctors and nurses who, in her words, "had given her a new body".
The tour may be over, but the celebrations to mark 30 years of BBC Sussex continue. The radio station is currently running a competition to give away 30 prizes to a host of local attractions, with listeners posing clues to mystery destinations in something we've called "Secret Sussex".
The main event, however, takes places on Tuesday 22 October, 30 years to the very day we began broadcasting countywide. On that day, we will be broadcasting our Breakfast and Mid-morning shows from the historic Royal Pavilion in Brighton, just opposite our first headquarters at Marlborough Place.  A host of specially invited guests will be joining us, from former presenters to local dignitaries, Sussex celebrities and some of our listeners too. The Breakfast Show will be hosted by current presenter Neil Pringle and the first host of Breakfast in 1983 – Piers Hopkirk. And as I write this, I'm also beavering away on an update to a documentary first aired in 1993, telling the story of the BBC in Sussex, from the early days as BBC Radio Brighton, right through to the BBC Sussex of now.
It's a bit of a cliché, but I feel very proud to have been part of the station for over a third of the time we've been on air. Working at BBC Sussex can be challenging, fast-paced, sometimes frantic, but most of all fun. Without doubt, it's the best job I've ever had.
Mark Carter is Assistant Managing Editor, BBC Sussex and BBC Surrey.