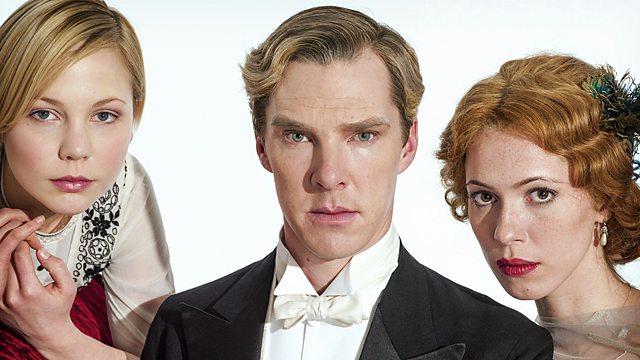 (l-r) Adelaide Clemens, Benedict Cumberbatch and Rebecca Hall in Parade's End
In the Television Craft awards, across 20 categories, BBC productions dominate, with five nominations for period drama Parade's End (pictured), four for The Girl, Ripper Street and The Hour and two each for Doctor Who, 7/7 One Day in London, Call the Midwife, Amish: A Secret Life, Richard II, The Thick of It, Top Gear and The London 2012 Olympics: Super Saturday.
In addition, director Hamish Hamilton, who gave audiences the Opening and Closing ceremonies of London 2012 Olympics, will be the Special Award Recipient 2013.
The rest of the Television Craft winners will be announced at a ceremony in London on Sunday 28 April 2013, hosted by actor Stephen Mangan.  You can find a full list of nominations for the Television Craft awards on the BAFTA website.
Then, on Sunday 12 May, the BAFTA Television awards take place. Once again, BBC programmes have a strong presence across 24 categories: The Girl and Last Tango in Halifax have four nominations apiece, as does Twenty Twelve, The Opening of the Olympics and Super Saturday.
In terms of actors, Peter Capaldi who plays sharp-tongued spin doctor Malcolm Tucker in The Thick of It is nominated twice, in the Best Supporting Actor and Best Male Performance in a Comedy programme categories. Coincidentally, actress Olivia Coleman also gets two nods in the equivalent female categories, Best Supporting Actress and Best Female Performance in a Comedy programme. 
If you fancy putting your judge's hat on, the Television awards also feature an Audience Award: this year the contenders are BBC programmes Call the Midwife, Strictly Come Dancing and The Great British Bake Off as well as The Opening Ceremony, London 2012 Olympics; Game of Thrones and Homeland make up the running. Visit the Radio Times website to vote for your favourite.
A full list of all the nominations in the Television Awards is available on the BAFTA website.
Hannah Khalil is Digital Content Producer, About The BBC website and Blog.