Bringing the generations together in Bristol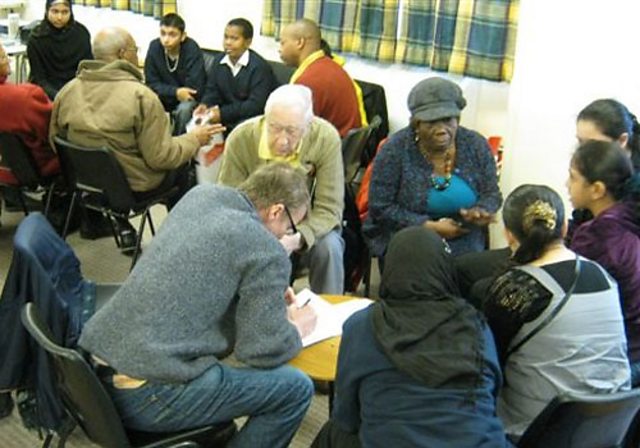 http://www.bbc.co.uk/blogs/aboutthebbc/Bristol.jpg
I had the good fortune to be back in my home city of Bristol this week to see the launch of a new BBC outreach project Live In and Live On. We do many different projects across the country with young and older people but less common is combining the two. This is exactly what Live In and Live On is doing by bringing a group of elderly residents from the Easton area of the city into conversation with a group of twenty or so young people, most of whom have newly arrived in Easton, some the children of asylum seekers and all of whom do not have English as their main language.
It was particularly fascinating to hear some of the parallels between today's generation arriving in a new country and the experiences of immigrants arriving in Bristol in the 1950's & 60's.
Communications abroad to relatives and friends was and is still very important. But whereas the older generation had to wait weeks for the post, today emails and the internet have transformed the time such contact takes. And the BBC of course is constantly seeking to helps all sorts of people make the most of changing technology.
At this opening session the young people showed a film that some of them had made about the problem of modern day racism. Sadly a not so different experience to the older people's accounts of 50 years ago when hospital patients would sometimes ask a black nurse not to touch them or white people would move on the bus if a black person sat next to them.
This particular project has an extra ingredient. Local artists involved with sculpture, pottery, photography, painting and ceramics will be working with the children to interpret the older generation's personal stories into pieces of art. It promises to be quite an experience and challenge for all involved.
This type of project gets the BBC right into the heart of local communities, getting to people that our broadcasts don't easily reach. In turn projects also inform our own staff and often lead to great new content for online, radio or television. I'll be watching closely to see how this works out and I'll be returning to Bristol on Saturday 2 April to see the artwork exhibited at the Easton Community Centre.
Alec McGivan is the Head of BBC Outreach