Damian O'Neil is a video journalist at BBC Look North in Newcastle. He is just about to finish a three month BBC Outreach attachment working on School Report in the North East and Cumbria.
When my newsroom colleagues learned of my 3-month attachment to School Report, their reactions ranged from bemusement to incredulity. In a few cases, there was an unmistakeable trace of paranoia, as if they may have missed out on something. No-one really knew very much about School Report, including me, but since I had researched the position before applying, I at least knew more than most.
As a fully-signed up member of my own fan club, I have been working with like-minded individuals in a number of broadcast newsrooms for 20 years. Journalists are essentially about themselves; the degree to which we help each other out varies, but in the search to get the story in a competitive environment, we are driven to serve our own interests.
By the end of 2013, the feeling that I enjoyed a good quality of life without putting very much back had become sufficiently uncomfortable to compel me to do something.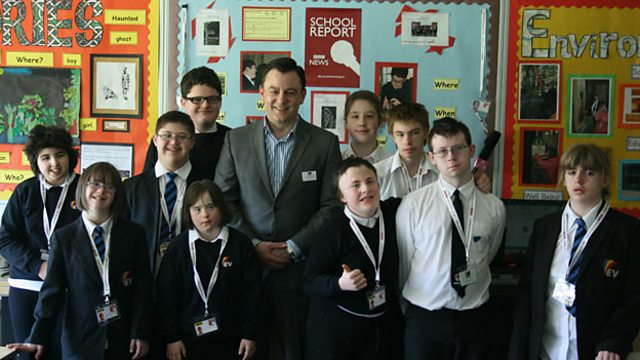 Damian visiting Beaumont Hill Academy, Darlington, a school for pupils with special educational needs
When I got the call to say I had won the attachment I was delighted, but beyond a general idea that I would be helping school kids produce their own reports, I was unsure what was required. I just knew that I wanted to inspire at least one person to pursue a path that they would not have otherwise considered. Part of my brief was to engage with schools in hard-to-reach areas, and we have plenty of those in the North-East and Cumbria. Getting them to enrol in School Report proved to be the hardest part of my job; most headteachers would not even return my emails and calls.
But I did spend a great deal of time visiting schools, talking to the pupils about life as a broadcast journalist, and helping them produce some excellent work. We got a lot of material on air: I ended up filming three School Report pieces that made it onto Look North, BBC Tees and BBC Newcastle ran radio packages and radio car lives, and we had a fantastic television outside broadcast from Marden High School on News Day.
My attachment was a hugely rewarding experience, and I know that I succeeded in my aim of inspiring some of the kids, because both they and their teachers told me. I left with a new-found respect for schoolteachers, and a much greater understanding of the challenges they face every day. I hope that this experience with School Report will not have been my last.
Damian O'Neil is a video journalist for BBC Look North.