I have a confession. I've never watched Citizen Kane. I've also never watched The Ipcress File, nor Chariots of Fire. And there were moments during the press launch for the BBC's pan-network Sound of the Cinema yesterday when I felt uncomfortable about that. Such key moments in movie-making history have passed me by. 
And yet, the very reason Kane, Ipcress and Chariots are to be featured in the BBC Sound of Cinema celebration in September is an illustration as to why these films are not entirely unfamiliar films to me: their soundtracks have already done the initial introductions embedding micro-melodies packed full of musical flavour into my subconscious. They are tunes which have stood alone on the playlists of Radio 2 and others as to give the tracks lives of their own. Little wonder then, it's an album of music by John Barry I'm listening to as I write. 
The BBC's Sound of Cinema celebration comes hot on the heels of the BBC Proms in September, offering an exploration of the fine art of the film composing and reminding us that the very thing which helps secure a film's legacy has its roots in the sometimes mysterious alchemy of film-making: the collaboration between director and composer.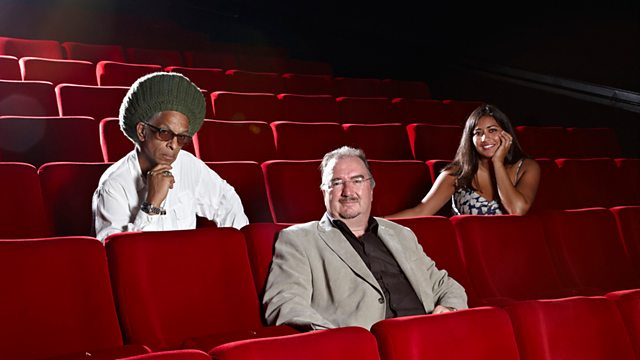 Don Letts, Neil Brand and Rhianna Dhillon
The month-long celebration begins on BBC Four with a series fronted by silent film composer Neil Brand (pictured centre, above) who during yesterday's launch gave a taster of his obvious passion for the genre, annotating the opening sequence of Citizen Kane, explaining why it was important the opening title board doesn't have any music under-pinning. That followed by a near-second by second analysis of how music was used to enhance the visual storytelling and it Neil had unwittingly gone beyond his remit: not only was he advertising his own BBC Four series, but also leaving me in desperate need of a rainy Sunday afternoon during which I could settle down for a matinee viewing of Citizen Kane. 
Running concurrently with Brand's BBC Four Sound of Cinema: The Music that Made the Movies, the cinema celebration crops up in a five-part 6 Music series, in The Story of Hip Hop in the Movies and on Radio 2 in Mark Kermode's The Soundtrack of My Life. The Asian Network focuses on how Bollywood Music has featured over the decades. 
But as with any press launch, the hook for the resulting piece to be written only really emerges when names pop out from an A4 page of text. On Radio 3 Tom Service will talk with composers about their work with film directors. And among them, one George Fenton who for people of a certain age is responsible for the soundtrack not just of films, but a series of even more potent musical inventions which collectively make up an evocative collection of TV themes from the 1980s.
Who couldn't feel energised by the prospect of a new day by the end of Fenton's BBC Breakfast Time signature tune as it effortlessly trips through seemingly endless key changes, or fail to pay unwavering attention at the sound of the Six O'Clock News opening credits in 1988? Or 'the One', for that matter. Or was I the only one? 

George's TV oeuvre doesn't feature in the Sound of Cinema celebration (for obvious reasons), but for full information on what does, take a look at the media pack accompanying the BBC Media Centre press release. Broadcast dates and times will be released nearer the time. The BBC staff magazine Ariel also ran a story about the press launch. 
Jon Jacob is Editor, About the BBC Website and Blog.