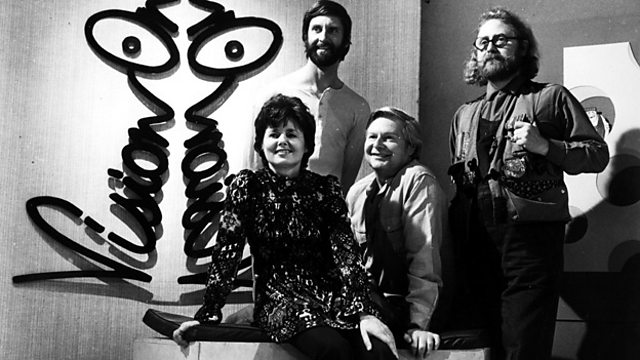 Pat Keysell, Ben Benison, Tony Hart, & Wilf Lunn with the Grog, on the wall behind in 1972
When I was a child, along with millions of my generation, I used to race home from school to tune in to the two hours of children's programmes on
BBC One
. Those precious few hours of telly that were made just for me!
In the 1950s and 60s, my predecessors at the BBC envisaged the Children's Service as "the BBC in miniature" - all the genres that adults had, but made especially for children. From drama, through entertainment, to documentaries and news. And that's what I grew up watching: Blue Peter, Swap Shop and Trumpton, Screen Test, Animal Magic and Play Away, Vision On, Wacky Races and Hong Kong Phooey.
I learned about the world and how things worked with Johnny Ball and Johnny Morris, was inspired to know about far flung places by John, Pete and Val on Blue Peter, and probably developed my lifelong love of fire engines from Trumpton! I escaped from the stresses of school with Marine Boy, The Hair Bear Bunch, Rentaghost and Whacky Races - and saw how other children dealt with those stresses in Grange Hill.
Children's television was a window on to another world and a window into my own too – showing me new places and people, but also allowing me to see boys and girls like me in towns like mine. The day Keith Chegwin and Swap Shop descended on Leamington Spa one Saturday morning was especially exciting!
I hope it remains all those things to children today. I'm fairly sure it does, from all the letters and emails we receive from children and their parents in every part of the United Kingdom. And yet the world is a very different place. I had 3 channels (two of which were showing the Test Card for most of the day). Today children have over 30 dedicated children's channels to choose from – along with all the additional distractions offered by computer games, the internet and new mobile devices.
In this new world its gratifying to know that, despite all that choice and so many calls on children's time that we never had, the BBC's two Children's channels are still the most popular amongst kids in the UK today. Children no longer need to race home for a couple of treasured hours of entertainment – CBeebies and CBBC offer them whole channels of their own. And if they miss it, the CBeebies and CBBC iPlayer and CBeebies radio player come to the rescue. Our channels and websites are the first places children now go to to see their favourite shows, and they're also an important source of advice and guidance about being safe and happy in this complicated world children now live in.
That's one reason why, from early next year, children's programmes will no longer be broadcast in daily scheduled blocks on BBC One or Two. This Friday marks the last block of children's programmes on One and, rather fittingly, we sign off with the Christmas special of our flagship show Blue Peter and the premiere of this year's CBeebies Panto Jack and the Beanstalk. Blue Peter will sail on every week on the CBBC channel where it now gets many more viewers than those watching the weekly repeat on BBC One.
All children in the UK now have access to digital TV so it seems to us to be the right time to end the blocks of programmes on One and Two. BBC One will now have a clearer role in the afternoons as the place for new and popular daytime shows, with many moving over from BBC Two.
And our audience certainly know where to go to access their favourite programmes – both our Children's channels are enjoying record viewing figures, as are their accompanying websites. We're not making any children change their viewing habits; rather we're acknowledging that they've already changed those habits and voted for our digital channels with their remote control fingers some time ago.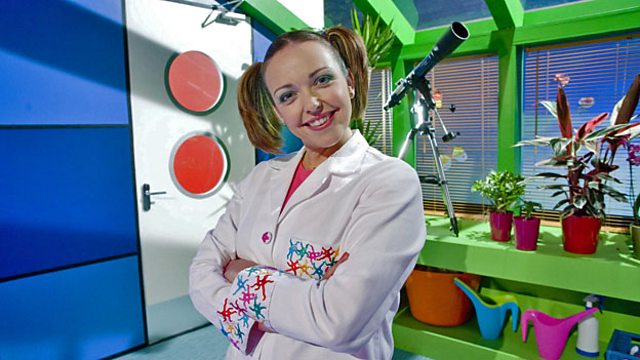 Nina (Katrina Bryan) from Nina and the Neurons.
2013 marks a new chapter in the history of children's programmes on the BBC. We remain as committed as ever to showing the best quality, UK-made children's content. To give you a taste of what's to come in January…Bernard Cribbins will mark 70 years in entertainment by returning to our screens in Old Jack's Boat; Nina & the Neurons will be back with a new series looking at engineering; Jacqueline Wilson's fictional care home The Dumping Ground will be reincarnated in a brand new drama and Dick & Dom return to CBBC with Absolute Genius – looking at inventors and scientists who have changed our world.
There's plenty to look forward to next year. Our programmes can inspire children in Britain to broaden their horizons, satisfy their curiosity about the world, and aspire to achieve things. And allow them to laugh, relax and enjoy being children. That's not going to change.
Joe Godwin is Director, BBC Children's
Listen to an audio interview with Joe Godwin recorded earlier this year.