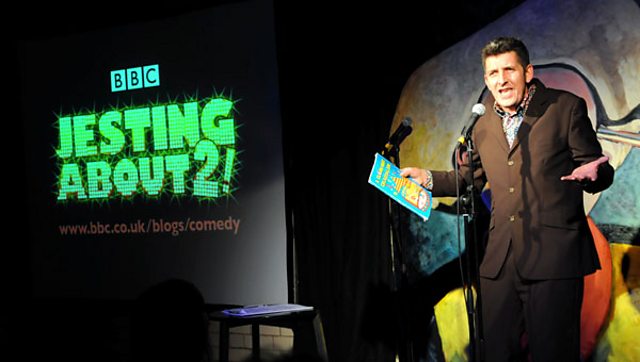 Steve Drayton from BBC Newcastle
As I have said before, The North of England is a very funny place. Always has been. But we need to find, support and develop the next generation of BBC entertainers. That's why so much work is going on across the region with Cheryl Taylor's comedy commissioning team, who are based in Salford.
For instance, we've been doing some grass roots work in the North East. From comedians like Vic Reeves, Bob Mortimer, Ross Noble and Sarah Millican to classic shows like The Likely Lads, the North East knows how to make the nation laugh - its got a warm, dry, sly wit that is irresistible. I was reminded of this again last week when I was in Newcastle at the launch of Jesting About - Funny Gets Serious in the new comedy club, The Stand.
This is the second year that BBC North has supported this big initiative. We are working in partnership with Northern Film and Media and it is part of that wider commitment from us as well as our colleagues across the BBC to keep comedy at the heart of programme making for all audiences, particularly across the North.
This year's Jesting About will continue the search for new talent. It gives performers, writers and filmmakers access to mentoring from some of the leading lights from the comedy and entertainment industry to help them develop and hone their skills so that they can pitch comedy ideas, scripts and sketches to BBC commissioners.
At the launch last week we had the chance to catch up with some of those who took part last year. Carl Cooper, for example has been commissioned by BBC Radio 4 to make "Geordinary People" with some of those who participated last year. This is off the back of a half hour Jesting About programme made for BBC Newcastle and BBC Tees. It's been nominated for a Sony Radio Award next year and you can listen to it here. And Keith Brumpton has been commissioned by the BBC to take a comedy project to treatment stage.
We have been really privileged to have the support of some of the biggest names in comedy. Bob Mortimer signed up last year and has been a tireless supporter ever since. Bob, together with such comedic talents as Ross Noble and Ian La Frenais, have been generous giving their time and support. Bob has also given two writers from the initiative the opportunity to write sketches and questions for BBC Two's Shooting Stars, which he co-presents with Vic Reeves.
Jesting About comes hot on the heels of BBC Comedy's very first Sitcom Showcase that was supported by BBC North in Salford Quays. Six comedy pilots were performed in front of a studio audience and I was delighted when one of those pilots, Citizen Khan, was then almost immediately commissioned for BBC One. I am all the more pleased because it will be made in the MediaCityUK studios, which are fast becoming the home of a whole new slate of comedy programmes. As well as Citizen Khan, Sarah Millican will also be in the studios working on her new series for BBC Two early next year and Will Mellor arrives with his promising BBC1 sitcom In With The Flynns.
And Jesting About is just the start of a long-term commitment to investing more in programme making in the North East of England. Not only did we film BBC Children's hit drama series Tracy Beaker in the region but we have supported events like The Great North Run that bring us closer to our audience and we expect Inspector George Gently to be followed by more drama investment there for BBC One.
And just this weekend BBC Radio 3 was at The Sage with their Free Thinking Festival. The likes of Jimmy Whales, the founder of Wikipedia, William Hague, Maximo Park and Margaret Drabble came together to examine the world of ideas through talks, interviews, debates, original drama and performance. On Saturday night there was a cracking R5L/ R3 joint broadcast looking at what constitutes News in the age of Twitter and Internet gossip.
Anyway, back to the seriously funny stuff. And I don't mean CBBC's Crack-A-Joke, created by Newcastle-based digital agency Th_nk earlier this year. It's definitely worth a visit for any aspiring children's party entertainers.
If you have more than a funny bone in your elbow, we definitely want to hear from you. This year Jesting About will focus on entertainment and sitcom ideas for television and radio. The closing date for entries is Monday 28 November so click here to apply.