This week BBC Radio Cumbria's Head of Programmes, Ian Timms, is documenting the station's 40th anniversary celebrations in a special series of diary entries.

1973 Day is here.

This is the culmination of a whole year's planning.

The day starts with a business breakfast in the Tullie House with Cumbria's opinion formers and as many presenters as I can get over there. BBC North Outreach have put this one together for us, to put Radio Cumbria back in the minds of those who matter. More cake is promised; it always works like a presenter magnet, even this early in the morning. Fondant sponge gratis and they really are anybody's.
It's a mixture of old and new today. Chris and Mike are on Breakfast. Val Armstrong and Kevin Fernihough are reprising their double-act from years back. She says its best to, "let him go off on one" and then chip in with bits when he gets stuck! John Myers, former Guardian Media Group chief executive, is back today as well; he's fronting lunch with Caroline Robertson (as a boy broadcaster John did the country show here ... and won awards for it,despite not knowing Nashville from Newbiggin). It's one of radio's most experienced and successful presenters alongside one of its newest talents.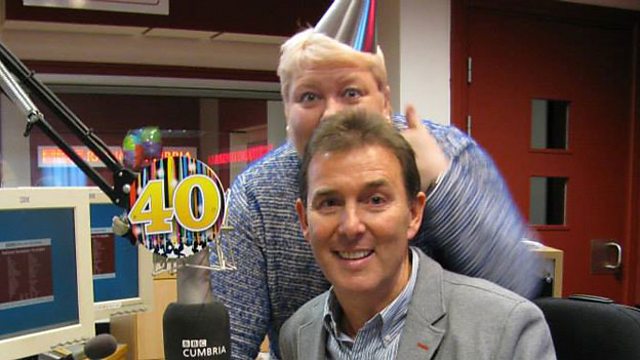 Together again. Val Armstrong and Kevin Fernihough enjoy the birthday celebrations.
Then another reunion; Caz Graham returns from Radio 4 to work with Gordon Swindlehurst (this one is going to get a bit rural: they're both "Lamb-bank" veterans and farming correspondents, with their own Hunters, shooting sticks and real mud) 

Finally, Paul Braithwaite, the only one still here after 40 years, gets to choose his Top 40. Everybody has left their ego at the door and they're all playing nice in the sandpit: Result.

I'm loving the '73 playlist.  It was the first thing I compiled back in January and it made me smile then. Not at all cheesy. Bowie, Elton, McCartney, Lou Reed and Stevie. Middle-aged cool.

Ian Timms is Head of Programmes, BBC Radio Cumbria