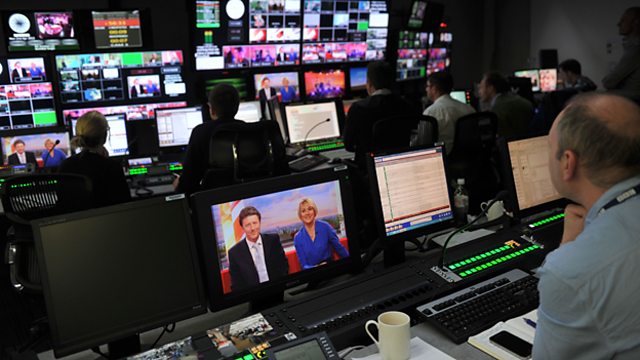 The gallery during rehearsals ahead of the first BBC Breakfast broadcast from Salford.
Every morning for more than a decade, BBC Breakfast has helped viewers start the day, with its trademark mix of news, issues and guests. Today, it's done just that - but this time from its new studio at MediaCityUK in Salford.
We announced the move two years ago, as part of the BBC's commitment to developing a strong creative hub in Salford. In recent months, the team has been working hard to bring Breakfast alive in its new home, on time as planned. It's a big day for the team, but in some ways we hope that viewers may not notice that much. Breakfast is still the same programme that viewers know and love as it was last week - the news of the day (the fate of Abu Hamza, the ceasefire that isn't in Syria), issues that matter to viewers (pay day loans, neighbourliness). All that and school champion cup-stacking and some horse whispering too!
Obviously, there's the brand new studio in a new location. We're pleased with the studio that we will share with the news team responsible for putting out the regional bulletins, North West Tonight. It's a flexible modern space, making the most of the latest technology, and with a bright warm look. Breakfast is the first daily BBC News programme to be broadcast from an HD studio.
There's still a big red sofa and the same BBC Breakfast logos, titles and music. In fact very much business as usual, broadcasting more than three hours of live news, sport, weather and entertainment every day, the most successful morning show on television. As always, we tried to strike a balance between the big issues of the day and inspiring stories from around the UK.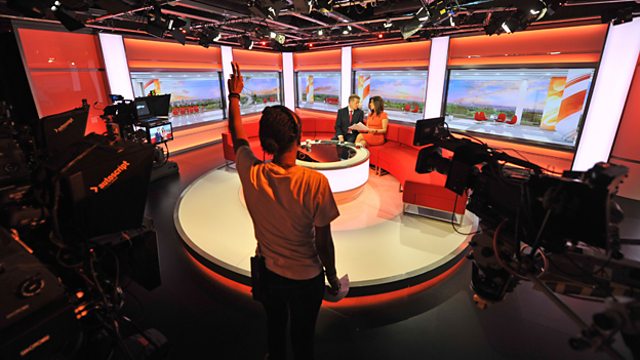 Bill Turnbull and Susanna Reid on set in the new BBC Breakfast studio MediaCityUK in Salford.
The presenting team, too, has a familiar look to it. Bill Turnbull and Susanna Reid presented today - later in the week it will be the turn of Charlie Stayt and Louise Minchin. This is our core family of presenters, all now firmly established on the show, along with business presenter Stephanie McGovern, sports presenters Sally Nugent and Mike Bushell, and Carol Kirkwood, Breakfast's weather presenter.
Breakfast is an important part of BBC News, primarily a news programme - but with a big helping of human interest, entertainment and culture. We get more than our fair share of interesting guests with great stories to tell and some of those guests are household names. This won't change. This morning we were joined by Connie Fisher, star of the Sound of Music and now the lead in Wonderful Town, and Ian Anderson of Jethro Tull.
The BBC has a rich heritage of journalism in the north of England across local, regional and national outlets. BBC North is home to Breakfast, regional news and current affairs; network and regional radio programmes, including Radio 5 live and Radio Manchester; plus BBC Children's and BBC Sport. Some guests will be down the line - as happened until now with out of London guests - but we know that the red sofa will continue to be a magnet for a great mix of guests.
Breakfast has always been very successful at reflecting all our audiences, no matter where they live, and being in the heart of the UK means we can continue to reflect all points of view. After all, we're a network show and we won't be making a Northern Breakfast any more than we made a London one, although we'll also make the most of our new home. The move comes during a hugely successful period as it continues to reach more than 12 million viewers per week. There are many people who helped make the move successful. But our real appreciation is for our loyal viewers. Breakfast from Salford will continue to serve them.
Mary Hockaday is Head of Newsroom, BBC

More about the BBC Breakfast team's move to MediaCityUK in Salford can be found on the Media Centre website.