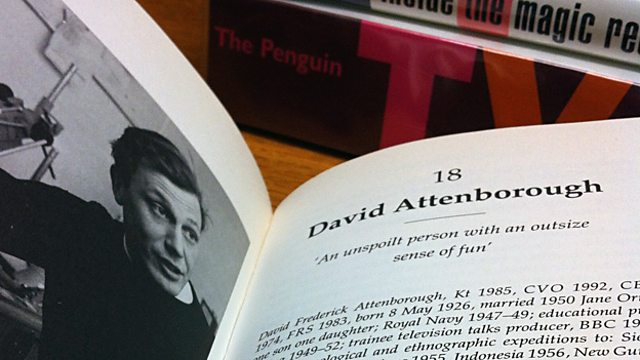 A page from Leonard Miall's chapter on David Attenborough.
On one of my parents' many bookshelves in the house I grew up in, wedged between a copy of Delia Smith's Complete Cookery Course and a Robert Carrier part-work, a hardback book with a slimy bulbous-eyed frog on the front can be found.
The book by David Attenborough was my introduction to the ground-breaking TV series Life on Earth. I never watched the programme when it was broadcast in the late seventies. Bedtime was always before its transmission. 
Instead, all I knew of the TV series and its legendary presenter was the book that accompanied the series. To my now shame, the alien-like creature on the front cover didn't endear it to me. I chose to give the book a wide berth.  Delia Smith looked far more approachable.
In fairness, I was only seven years old at the time. Looking back now nearly forty years later, it's easy to see how the programme made an impact on my parents. Domestic video hadn't entered our household (we wouldn't get a Ferguson Videostar until 1983), so with no easy way to watch the programme again, relieving the experience via the dedicated book was the next best thing.
Life on Earth was one of the biggest TV partnership projects mounted by the BBC when it was made during the mid-seventies. Consisting of over a million feet of film shot on visits to more than 30 countries in three years, the 13 fifty-five minute episodes were seen by an estimated 500 million viewers worldwide. Life on Earth was followed by The Living Planet in 1984, The Trials of Life in 1990 and seven other series in the near twenty years that followed.
After watching two episodes of Life on Earth, then Observer critic Clive James wrote in his 1979 review (found in On Television),
"Slack-jawed with wonder and respect, I keep trying to imagine what it must be like nowadays to be young, inquisitive and faced with programmes as exciting as these. There can't be the smallest doubt that this series will recruit thousands of new students for the life sciences.
"Fresh-faced and paunchless, Attenborough looks groovy in a wet-suit. Female viewers moan low as he bubbles out of the Pacific with a sea urchin in each hand. Against all the contrary evidence provided by James Burke, Magnus Pyke and Patrick Moore, here is proof that someone can be passionate about science and still look and sound like an ordinary human being."
It's easy to underestimate the impact such a series had on audiences and to overlook what the constituent parts of that appeal might have been. Put crudely, Cambridge-educated Attenborough knew his stuff, looked good on camera and brought audiences close to animals they had never seen before.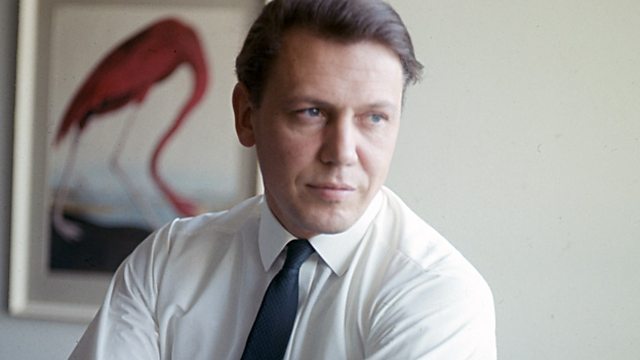 David Attenborough pictured in 1967 at BBC Television Centre
But there is another aspect – within BBC circles – to Attenborough's appeal which is perhaps understandably overlooked by most who love watching the many programmes he has been involved in: Attenborough is not only someone who is 'on the BBC', but he's also  a product of it as well as being a part of it too. For anyone who's dreamt of working for the BBC, making programmes for it or being on it, David Attenborough is the proverbial poster boy.
In an organisation approaching its 90th anniversary, his work as a BBC producer, 'accidental' presenter and subsequent brief life as a corporation staffer makes him unusual, especially given that the role he now has in our consciousness as viewers – a presenter - is one he initially ended up doing with some trepidation.
Zoo Quest, a programme Attenborough produced with London Zoo curator Jack Lester for the then BBC Television Service (the pre-cursor to BBC One), combined filmed expedition sequences with live segments presented in the Alexandra Palace studio by Lester. Attenborough was to direct proceedings from the gallery.
By episode two, things turned out to be very different. Lester contracted a tropical disease during filming of the first series in 1954 which developed further when the programme's first episode went out.
Attenborough's then boss Head of Talks, Leonard Miall in his 1994 book of staff sketches 'Inside the BBC' recalled how concerns had been raised about Lester's presenting skills and that if the programme was to succeed the best solution was for Attenborough to present with Lester.
This 'last minute' emergency change to proceedings resulted in Attenborough presenting a live sequence in the studio with a frightened chimpanzee who when she recognised the presenter from location filming, immediately went up to him and flung her arms around him. A touching moment in the very early days of TV. According to Leonard Miall,  "the audience went 'ooh' and 'ah'" when they saw it.
Even if Miall couldn't 'see' the audience, the point he makes in 'Inside the BBC' is that he recognised the importance of that moment in TV history, not least because it emphasised the value to be found in unexpectedly tender moments on a TV audience – something we would see more of in future Attenborough productions. 
In the years that followed the Zoo Quest series, David Attenborough would leave the Corporation to return to University to study, before being invited back a few years later to help develop the BBC's new TV channel BBC Two. After the commissioning landmark productions Civilisation and The Ascent of Man, he would leave a few years after that to begin production on the Life on Earth series.   Such career history is the BBC equivalent of someone starting in the post-room and ending up being a household name.
Marking Attenborough's sixty years in broadcasting doesn't only reflect the development of the natural history genre which still continues to engage audiences to this day, but also marks his contribution to television production and that of the wider BBC.  It's the kind of legacy some BBC staffers dream of.
Jon Jacob is Editor of the About the BBC Blog
Attenborough's Ark is on Friday 9 November at 9pm on BBC Two. More information about the programme can be found on the BBC's Media Centre website.

Attenborough: 60 Years in the Wild is broadcast at 9pm on BBC Two from Friday 16 November. 
Explore the BBC Archive collection of David Attenborough related material including original documents detailing the production of Zoo Quest and letters by Attenborough written during location filming. Additional material can be found on the BBC Four archive website whose producer writes about working with the presenter on the TV Blog. 
Watch a selection of David Attenborough's favourite natural history moments on the BBC Nature website. 
Attenborough was one of BBC Radio 4's New Elizbethans earlier this year. His appearance on Desert Island Discs is available to download.