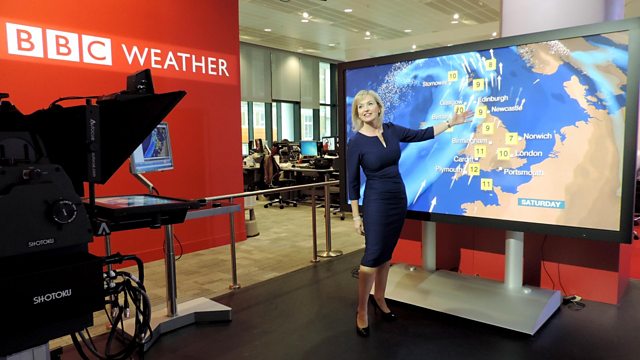 Carol Kirkwood in open air studio in Broadcasting House, 2014
To mark the 60th anniversary of the first weather forecast on BBC Television, Head of BBC Weather Liz Howell explains what the role of weather is in the BBC's output today.
As Head of Weather at the BBC I take strategic and editorial responsibility for a wide range of local, national, network and global coverage on radio, television and online. Our output ranges from global reports to 'postcode-driven' weather. I wanted to use this opportunity not only to celebrate 60 years since the first TV weather broadcast, but also to explain a little of what the role of BBC Weather is today and how we work to deliver weather to our audiences.
One of the things we know for sure is that the UK audience is obsessed with weather. Quite understandably too. The UK is a very difficult country to forecast weather. Quite apart from the discussion around what 'good' or 'bad' weather is - one man's snow, is another man's pleasure …or another man's cause for concern – as UK residents, weather is central to our day to day experience. What the weather will be matters in many decisions we make during the day: decisions that involve going out or doing something outside; deciding what to do with the kids; whether or not to turn the heating up or down. In short, the weather really matters to people.
But we believe our audience is very interested in world weather events too. That's really important to us because that's when weather forecasting can help shape the news agenda. For example, take the typhoon that devastated the Philippines. We saw that coming five days before and were able to talk about it: how the storm was growing; how big it was getting; the likely impact of the storm, etc. All of that is a central part of storytelling in news. In the past, weather may have been slightly more compartmentalised because of the way in which forecasts featured at the end of bulletins, but now it's my view that weather is truly embedded within our news agenda, right the way through.
BBC News really values our weather output too. What we've tried to do over the last few years since I've been in post, is really capitalise on the expertise that we have at BBC Weather. Not just so that we can tell people what the forecast is going to be, but also to explain the science behind the forecast, the story behind it, why the weather that's happening is happening, how many times it's happened, what might happen in the future with different weather patterns, and so on and so forth. Additionally, we know that our audience loves hearing about the science behind the weather and us explaining graphically why weather occurs the way, it occurs or how hurricanes are formed, what freezing rain is, etc. There seems to be a never ending appetite for consumption of weather output and that's very much recognised and cherished by my colleagues in news. Moving from Television Centre to New Broadcasting House has been an important part of that development in how weather is integrated into news.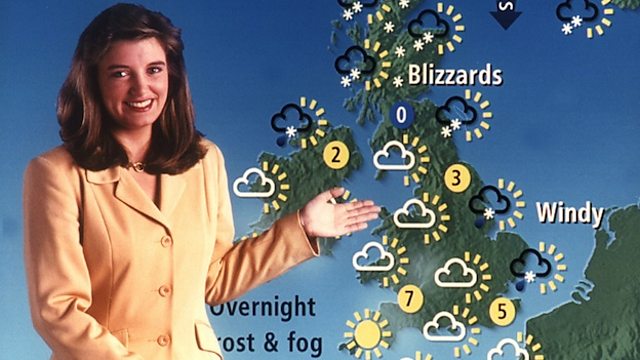 Helen Young, 1996
Where we were in Television Centre - a lovely, quirky place, it has to be said - was quite a way from the Stage 6 newsroom, tucked away in our own little offices behind locked doors. Out of hours, people who didn't have access had to knock to get in. It felt very isolated.
Today, in comparison, our physical proximity to news - up on the mezzanine floor right above the newsroom, adjacent to the BBC's 'General News Service' - makes us very much more visible to our colleagues. So, if there is a big weather event going on we can sit somebody in amongst the general news service and that individual can just be interviewed by every local or national radio station across the UK. Additionally, the BBC News Channel is just below us, so they can easily get access to us far more easily for weather-related output than they could in Television Centre, something which has proved very useful during the severe weather conditions which have hit the UK in recent weeks.
As a result the exchange of information and the requests for contributions is phenomenal now. The move to New Broadcasting House has been such a big boost for us.
But I think too there is a perhaps more striking change in how weather appears on screen to viewers which has also occurred since we moved location. The camera shot some News Channel viewers might have seen – the shot of the newsroom when the camera tracks over for the weather report - not only illustrates our connection with news but it's also one of the parts of the organisation members of the public get an opportunity to see from the Media Café, next door. It makes the modest weather studio a performance area, perhaps even an 'open air' performance area. That's something which really gears a presenter up, because they've got an audience watching not just on TV but here, physically watching in the building as they do it. I think that's sort of symbolic of how intertwined we are with our news colleagues now both as a physical presence but also in terms of the agenda.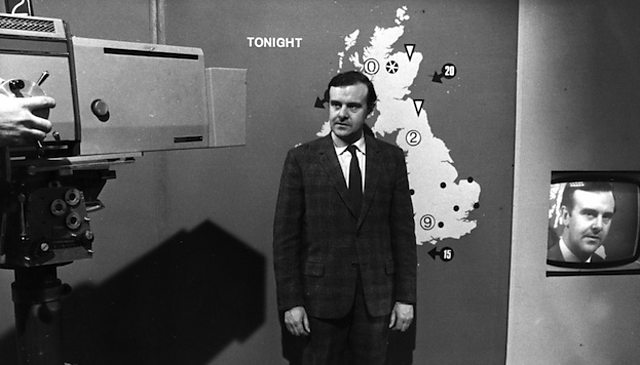 Bert Foord, 1969. In 1967 the BBC brought in a new range of weather symbols
The other big development for us recently was the launch of the BBC Weather app, which has proved widely popular with almost 5 million downloads since launch. I think it's really important that we were able to deliver it as the audience love BBC Weather - we know that, we know that our approval is very high and the consumption of information from BBC Weather is also very high. Clearly smartphones, tablets and mobile platforms are very important to the BBC in terms of broadcasting now and I think what we've tried to provide is very much a BBC experience. The app is very nicely designed -it just does what it says on the tin - and gives people what they want to know in a very elegant way.
We had a lot of discussion about what would be included in the app and of course this is the first stage. We will make decisions based on the audience need. We learnt from the website about what people really used a lot and what they wanted from us. So we felt quite solid in our offer for the app, that it was neither going to feel too weak or transparent or be too detailed and unwieldy to use. My colleagues in Future Media did a brilliant job in compiling all that research and working out what we should have and I'm really looking forward to us working on more releases in the future.
I have a fantastic team, second to none, both in the passion and dedication to duty of the incredibly hard-working producers at BBC Weather and of course, our presenters. All of them really worked solidly over Christmas. The presenters have an amazing skill set: some people maybe surprised that they talk without autocue about very detailed scientific information, and in some cases without the visual reference behind them. They are a mixture of really great presenters who know weather inside out, and meteorologists who know detailed science - you need a mix of both. Everyone is incredibly dedicated to getting the weather story out as much as they can, they just don't ever get bored, or tired, or sick of me saying, "The channel want to do this," or, "The 6 o'clock news want to do that." That's really important with something like weather, because when the weather is 'bad' our activity goes through the roof.
Liz Howell is Head of BBC Weather