Red Button brings you the best of the Edinburgh Festivals, performances from the BBC Proms, dance music from Ibiza, Hacker behind the scenes at CBBC, plus football, rugby league and cycling.
Edinburgh Festivals 2014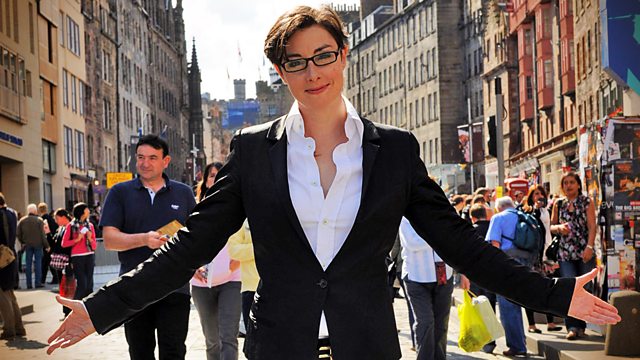 Sue Perkins
This month, the BBC celebrates the world's biggest cultural festival, spotlighting the show-stopping performances, side-splitting entertainers and world-renowned artists that make the Edinburgh Festivals such an important highlight in Britain's cultural calendar. Exclusively on Red Button, comedian Sue Perkins introduces late-night performances from the BBC Potterrow venue.
Sun 10 August, 22:55-07:00
Mon 11 August, 19:30-21:55
Tue 12 August, 00:00-07:00, 19:30-22:00
Wed 13 August, 19:30-07:00
Thu 14 August, 19:30-21:15
Fri 15 August, 04:00-07:00, 19:30-21:05, 21:05-06:00
Plus, Phil Taggart and Alice Levine present Radio 1's late-night comedy show live on the Red Button.
Mon 11 August, 21.55-00:00
CBBC Extra - Behind The Scenes
If you want more CBBC fun with Hacker and Dodge just press your Red Button! CBBC's dynamic dogs are waiting to take you by the paw and lead you on an exclusive behind the scenes tour of some brand new CBBC shows, including Harriet's Army and one cheeky canine's very own series, Hacker Time, plus more! You'd be barking mad to miss this, so press red.
Sat 9 August, 07:00-14:30
Sun 10 August, 12:00-16:55
Mon 11 August, 07:00-12:00, 14:20-19:30
Tue 12 August, 07:00-19:30
Wed 13 August, 12:00-19:30
Thu 14 August, 07:00-19:30
Fri 15 August, 07:00-19:30
Radio 1 in Ibiza
Enjoy the music from the biggest party on the planet as Radio 1 heads back to the White Isle for summer 2014. DJs include David Guetta, Danny Howard and Pete Tong.
Sat 9 August, 17:00-21:10
Sun 10 August, 17:30-22:55


Proms Extra
Watch full performances of Mozart's Requiem in D minor and Richard Strauss' Four Last Songs from the Royal Albert Hall.
Sat 9 August, 21:10-00:50
Thu 14 August, 21:15-04:00
Fri 15 August, 21:05-21:55
Sport highlights
Press red for UCI World Cup cycling, Rugby League Forum, Football League Show and Final Score.
For details of all the sports coverage on Red Button visit the BBC Sport website. Remember that live sports times are subject to change.
• Follow @BBCRedButton on Twitter for updates on all our services.
• For help and information visit www.bbc.co.uk/redbutton