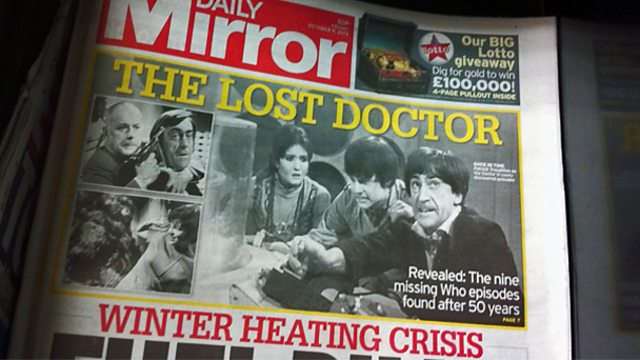 The Daily Mirror reports on the discovery of early Doctor Who episodes previously thought lost.
Good news BBC stories in the tabloid press nearly always make me beam with an inordinate sense of pride whenever I see them. If I'm on leave and disconnected from the 'mothership' so-to-speak, the feeling is even stronger.
So it was with the unexpected announcement that an early story in the Doctor Who canon had been located, restored and made available for download a few weeks back. An otherwise dull trudge around the supermarket was transformed into a skip up and down the aisles so that I could return home to download the said episodes. I spent the rest of the day slumped in front of the TV watching Patrick Troughton's Enemy of the World. Christmas had come very early .. or BBC Worldwide had been tardy in distributing my birthday present this year.
My Doctor Who roots are to be found in the 'old' series or what BBC Worldwide describe on YouTube as the 'classic' series. That is the extent of my connection with Doctor Who. I'm not involved in BBC Worldwide's distribution nor with the production in BBC Cymru Wales. And yet I still feel like Doctor Who is a part of me and – perhaps even stronger a feeling – that I own it in some way.
In typical obsessive self-absorbed fashion, I analyse the thought as I pass soft cheeses in aisle three. How can I own a programme? How, when I know how many people used to watch the classic series and how many watch the present one and given that there are thirty years in between both, can I still kid myself that Doctor Who is my programme? As a kid I didn't pay the licence fee. And as a kid I certainly didn't have any notion of the BBC's values or its commitment to accountability.
The answer lies, I think to myself when I get to the herbs and spices, in the way the programme captured my imagination at an age when I was in part of totally unaware of its potential impact on me as a kid. And that moment in time was almost certainly a news story – the announcement that after seven years in the role, Tom Baker would be leaving Doctor Who to be replaced by Peter Davison.
"How does that work?" I asked my sister, "How can someone else play the Doctor? Especially if he's about to die at the end of this episode?"
"The Doctor never dies," replied my older sister drily. "Without the Doctor, there would be no programme."
This revelation so cruelly imparted still haunts me, but surprisingly didn't dent my enthusiasm and fascination with this newfound seemingly 'grown-up' piece of television. Mum had Gardener's World; my sister, Top of the Pops; Dad, Morecambe and Wise. Doctor Who was my programme.
There was a hunger to find out more about this odd programme which posed more questions than it really answered. The answers (some of them, at least) lay in a nearby branch of WHSmith where my mum would leave me to browse while she did the more boring but necessary of tasks in the next door supermarket.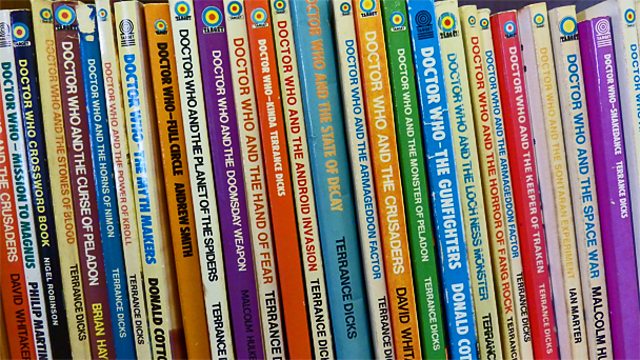 Doctor Who Target novelisations. Enough to make any Doctor Who fan of a certain age weep with joy.
It was WHSmith where my curiosity was fed and I eventually fell hopelessly in love. At the bottom of a wall of bookshelvesfilled with children's books, an entire shelf dedicated to Who. Each Doctor Who Target novelisation a piece of TV history adding to a museum of past magic. TV magic other people had seen and I never would (domestic video didn't arrive in the Jacob household for another three or four years after). All of it adding to the irresistible nature of Who. And at one end of that bookshelf, two paperback reference books: The Doctor Who Companion Volumes 1 & 2, written by Jean-Marc Lofficier with a foreword by Barry Letts. A history book about a television programme that started when the world was black and white and shrouded in smog. A time when things were out of focus and every man wore a tie.
Desperate as I was to own these two books myself and feed my obsession with Who, I hid both volumes spine-side inwards on an entirely different shelf – almost certainly alongside the Famous Five or the considerably less popular Secret Seven books – checking on a weekly basis that both remained in situ until the week I had sufficient pocket money saved to buy them. I still have the books to this day. They are a prized possession in all their fusty golden-paged loveliness.
These books, like the Target novelisations and my then growing collection of magazines and memorabilia were entry points to the world of Doctor Who. They provided documentary evidence of a television programme that had been running for 18 years. While friends at school gained kudos by their relationship with Dan Dare or Judge Dredd, the Programme Guides helped me swot up on the legendary past of Doctor Who: its humble beginnings, the show's trailblazing programme makers, the start date 23 November 1963, precociously referred to as 'a red letter day'.
In the foreword to the Programme Guides – a pre-cursor to the proliferation of detailed analysis now available on the internet – former Doctor Who producer Barry Letts wrote in 1981:
"To be corrected by a 15 year old about the third monster in a show made before he was born can be an earth-shaking experience. But now, thanks to the quite extraordinary industry of Jean-Marc Lofficier, I can be right every time."
Lofficier's work – he went on to write a number of similar guides about other television programmes in the years that followed – also highlights one of the many remarkable facets of the show's premise and the deft way first producer Verity Lambert gave Doctor Who a new lease of life with a new actor: regeneration. The story of a mysterious man from another world who has many different incarnations meant that on a very practical level we can't know every detail about him. That means there are many gaps to fill. And gaps usually mean there's room for an individual's imagination to fill in those gaps.
Long before a good friend of my parents told a young me that "before you can read the news young lad, you're going to have to write it, you know", I'd occupied the dead hours between the end of school bashing out ill-thought out trips into the depths of my fairly limited imagination, dreaming up situations for my very own hero and his team of pals. My own Doctor Who stories remain personal affairs, stuffed into folders never to be seen again. Reading them now makes me cringe. Fiction remains a phenomenally difficult thing to pull off. At the same time as rather enjoying the process, I also thought it a little odd. Wasn't TV enough?
Of course, it was fifteen years later - ten or so years after then BBC One Controller Michael Grade pulled Doctor Who from the schedules and left a generation of fans bereft and just a little hard done by - that alternative radio dramas and fan fiction breathed new life into the Doctor. Then, it became apparent to me that Who had inspired a whole host of creatively driven individuals in the same way. The framework established by Verity Lambert and Sydney Newman's original premise had enabled fans and now writers and producers to create their own stories and keep a fans network organising itself around the possibilities the internet offered, satisfied.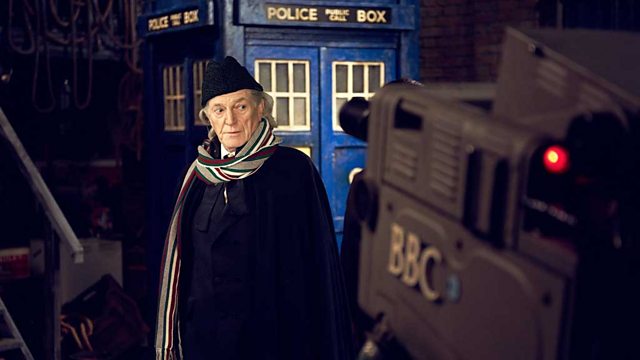 David Bradley (credit: BBC/Hal Shinnie)
Many of my professional contemporaries – those who work at BBC Cymru Wales on Doctor Who and other shows and websites across the BBC as well as various independents – all to a greater or lesser extent were like me inspired to work in media and at the BBC because of shows like Doctor Who, its sense of history hinted at through the likes of the Target novelisations and the peak behind the scenes books like Jean-Marc Lofficer's Programme Guides offered. They, like the producers of those early shows and those who work on it now are part of much bigger cast of Who, members of an extended family bound by the love of one particular programme.
And it's because of that sense of family that moments like the discovery of a previously thought lost forever early Who story resonates so. We all share the same thrill when a piece of the jigsaw previously believed to be lost underneath the sofa never to be recovered, has been retrieved. Things we never thought we'd see, now viewable. The favourite teddy bear now fixed up with two eyes instead of one. Something made real.
The prospect of Mark Gatiss' An Adventure in Space and Time – a dramatization of the work of producers Lambert, Newman and director Waris Hussein on the first ever story – offers a tantalising glimpse (in colour) of something to date I've only imagined and perhaps even longed to have witnessed). That it's been written by a Doctor Who fan himself proves the point that early Who inspired creatives to add something of themselves to the Whoniverse. It's enough to make the pulse race even faster than the announcement of the Enemy of the World having been found.
A treat. Just for me.
Jon Jacob is Editor, About the BBC Blog and website.
Mark Gatiss' An Adventure in Space and Time will be broadcast on BBC Two, date and time to be confirmed. 
Read interviews with Mark Gatiss and members of the cast on the Media Centre website.
More information about the 50th anniversary episode can be found on the Doctor Who website.