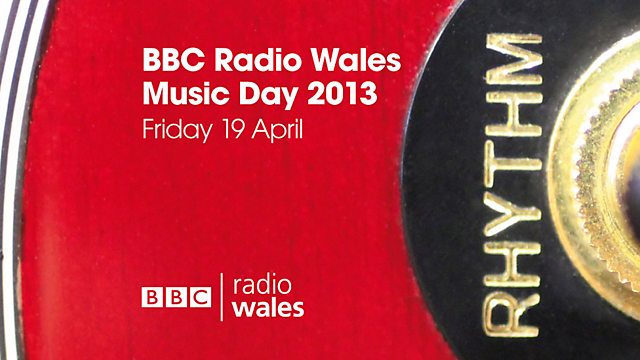 BBC Radio Wales Music Day Logo
Today is BBC Radio Wales Music Day: the day of the year when the station sets aside its normal programming to hear live music from some of the brightest and best musicians in Wales.
BBC Radio Wales has always promoted new Welsh artists but this work has always tended to be at the perimeters of the schedule. Given our role as a champion of Welsh culture, I felt we could be doing much more. So back in 2010, we invented Music Day as a showcase for some of the great artists Wales was producing.
We're now in our fourth year and the line-up keeps getting better. The headline moments this year include an exclusively recorded concert and interview from Charlotte Church (Friday 9 April at 9pm). And just before 1pm, there will be a world exclusive play of a new instrumental track from Manic Street Preachers. The Manics have been big supporters of Radio Wales Music Day through the years and we're delighted to have them on board this year.
The live music starts mid-morning and people will be able to watch the performances live on the Radio Wales website. Between 10 and 1, Jason Mohammad is joined by singer-songwriters Caroline Harrison and A Girl Called Ruth and the rock band Peasant's King. Between 1 and 4pm the Louise Elliott show will feature live performances from Dan Bettridge, Climbing Trees and Casi Wyn.
None of these are household names yet. But that's the point of the day. It's our role to discover new talent that we think has real potential of cutting through, and bringing that to our audiences. We will support these artists through our playlist and through our regular Welsh Artist of the Week slot. For example, when A Girl Called Ruth became Artist of the Week, her new song Stuck on You was played every day across the output. It's also important to us that these musicians are from right across the country. Casi and Ruth are from the north west, Caroline and Dan from the south west, and both Climbing Trees and Peasant's King from the south Wales valleys.
But it doesn't stop there. In the evening, two veterans of the inaugural Radio Wales Music Day are back for a concert in Wrexham at 7pm. Paper Aeroplanes, from Pembrokeshire, will be known to Bob Harris listeners. Meanwhile Al Lewis, from Abergele, has recently been touring with Tinita Tikaram.  They'll be joined by the Wrexham Community Choir in a show co-hosted by West End star Sophie Evans.  The DAB transmitter in north east Wales switches on today, meaning thousands of BBC Radio Wales listeners in and around Wrexham will be able to hear the concert in digital quality for the first time.
Radio Wales Music Day has some speech output too, with Good Morning Wales and Jason Mohammad discussing the current state of the Welsh music industry. In Teifiside Blues we tell the story of Llanddewi Brefi and its relationship with rock 'n' roll royalty like Eric Clapton. This was well before Little Britain moved the only gay in the village there.
So it's going to be a real party. The best thing about it is that it's just the tip of the iceberg in terms of what we do to support the great music coming out of Wales, week in week out. 
Tune in and join us. 
Steve Austins is Editor of BBC Radio Wales
BBC Radio Wales Music Day 2013 is on Friday 19 April 2013.