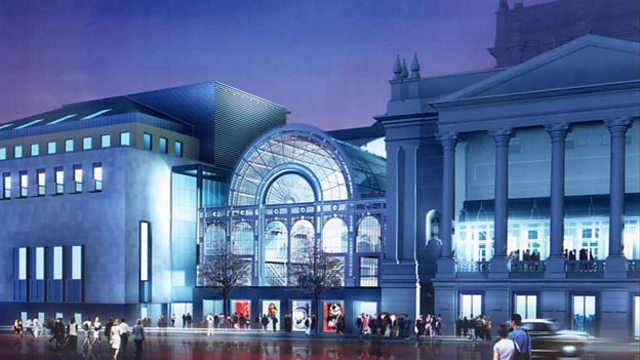 The Royal Opera House, London
I am a bonafide theatre groupie. I love theatre. Before I had a child, I used to go three times a week – honestly – and I kept a theatre 'journal' too. I know, total geek. Each diary entry had the ticket stuck at the top followed by my thoughts about the production underneath. I know most London theatres like the back of my hand. I know, total geek.
Opera is entirely different kettle of fish. I've only ever been twice. First, to a dress rehearsal of Madam Butterfly at the Royal Opera House about 8 or 9 years ago, dragged kicking and screaming by my other half. Opera was for the upper classes wasn't it? Not theatregoers with a penchant for rooms above pubs and a bit of breathy Beckett. I couldn't have been more wrong. Madam Butterfly blew me away. The music, the spectacle, the venue. Breathtaking. I cried.
My second 'high art' jaunt was to another opera dress rehearsal this week. It was a modern opera, and a friend was involved. I didn't know the music, or anything about the story. But it was in English. So I'd follow it – wouldn't I? As I waited for my ticket I realised I was a little bit nervous. Was I wearing the right thing? What if I couldn't understand what was going on? Would I have the language to talk to my friend about it?
Of course it was fine once I was in there and found my seat, but this unusual experience got me thinking about Tony Hall and the BBC Arts Launch last week. If someone like me – someone who is a self-confessed 'culture vulture' gobbling up art exhibitions, films, plays and concerts at every opportunity finds the prospect of an opera intimidating what must it be like for someone who hasn't had the privileged access to the arts that I've enjoyed all my life? The access granted by a middle class upbringing.
Writing about the launch Tony said: "Some suggest that the arts are for an elite. That is nonsense. The arts are for everyone. It is one of the best things about our nation." I really couldn't agree more. During periods of intense reflection, I've often had half-hearted conversations about the possibility of living abroad, but these musings are often abandoned once I consider the implications of being out of the UK and the wealth of arts and culture I enjoy here.
And yet, I don't fully take advantage of the wonderful cultural events we have here: I've never been to the Hay festival (always wanted to); never been to Glyndebourne (always meant to); never been to the Summer Exhibition at the Royal Academy either (always just missed it). What's more just the thought of traipsing round the Edinburgh festival with a two-year-old in tow brings me out in a cold sweat. Yet I'll have the chance to tick all those things off my bucket list thanks to the plans for BBC Arts programming on screen, radio and online. What's more I'll be able to do it from the comfort of my own home and in my PJs if I want.
I'll be getting out the highlighter and marking up my Radio Times so I don't miss a thing just as soon as the events start trickling through to the listings. What did you expect? I told you I was a geek.
Hannah Khalil is Digital Content Producer, About the BBC Website and Blog.