After a short break, in part due to the About the BBC team's work on the recent Annual Report website, we're back with our weekly round-ups for the blog: a personal take on the BBC from each member of the About the BBC team.
To lead on the death of a former presenter seems a rather low-beat place to start. Former Radio 1 DJ and TV presenter Mike Smith's death really resonated amongst my friends and colleagues. I'd overlooked how much of an impact Smith's Breakfast Show tenure had on me as a kid until I saw the comments friends were posting on Facebook.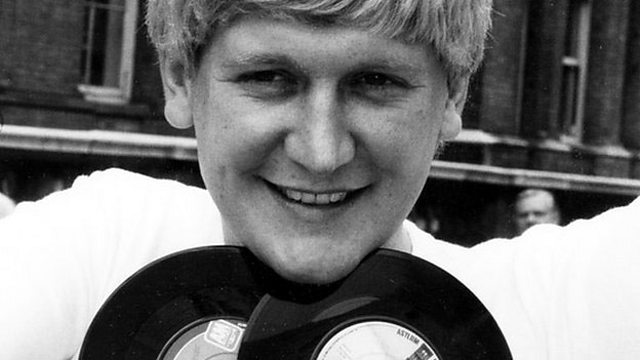 Mike Smith
A distinct memory came flooding back: my Dad - a professional photographer - called to cover Smith's stint driving rally cars for Ilford Photo at Snetterton race track in Norfolk one Sunday in the reasonably early eighties.
"Stand there," said Dad, "him and his girlfriend are going to come up the stairs on their way to the VIP lounge." There were people everywhere, making an already quite narrow corridor even more difficult to negotiate. It was hot. The sun was drawing all the moisture from everything. All that was left was the smell of burning fuel and rubber on hot tarmac.
This wasn't my natural habitat even at 10 years old. Without warning Smith and Sarah Greene start climbing the narrow stairs. Smith in his rally gear, Sarah following closely behind, both of them cloaked in celebrity. As he reached the top of the stairs and walked past me, I remember being awestruck. Rural Norfolk on a Sunday was momentarily more exciting than I ever remember it being before. Not only that, Smith and Sarah Greene were 'together'. And they both worked at the BBC. Smith probably picked her up from Television Centre after she'd finished Blue Peter on a Thursday night. That was what boyfriends and girlfriends did, wasn't it? They met each other after work.
Smith had an easy charm on-air. He was the younger, cooler brother I never had, the one who you knew would be able to make friends effortlessly, the one I could do with at school with me. He may only have existed in the radio or on the TV screen in the corner of the living room, but he promised the world to me: if you hung around him long enough, some of his magic would rub off on you and save you from your sometimes angst-ridden self. That's what people who do live broadcasting achieve. They tunnel their way into our consciousness and remain there, even after their faces and voices disappear from the airwaves. (They're a bit like weather presenters in that respect.)
The angst has gone thankfully, but the effect is still the same. Live broadcasting and those who do it, seemingly effortlessly, still make the hairs stand up on the back of my neck. Martine Croxall, Maxine Mawhinney and Huw Edwards this week to name a few from TV news output, and on Radio 3, Suzy Klein, Petroc Trelawny and John Shea. As a listener these are the broadcasting equivalent of seeing the regular faces in the office every day. More than the output they often introduce, it is those linking us from one thing to another who unwittingly and surreptitiously accompany us throughout our day, guiding and directing us from one thing to another. Without them and the natural skills they posess, I think my day would be a darker place.
'Live' output will always win my heart as a viewer too. Participating in a viewers 'moment' really makes me feel connected with other people. The Lights Out moment we marked on @AbouttheBBC on Monday also appeared on my Facebook and Twitter feed as friends posted their lit candle for all to see. In that hour we were united. Connected. Watching the live coverage of the Commemoration Service at Westminster Abbey sat on the sofa in the pitch dark was something I didn't want to miss, tinged with mild regret that I'd not attended the Late Night Prom to see Lights Out marked there.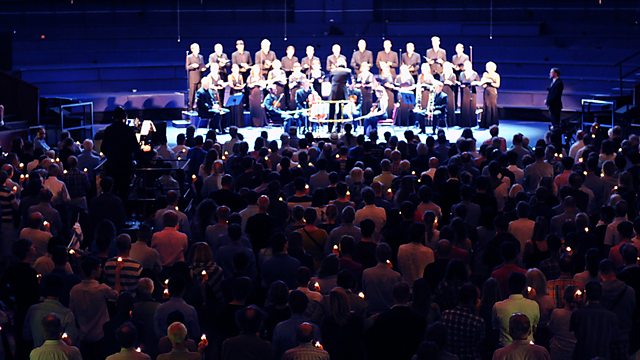 Lights Out at the BBC Proms 2014
It is the excitement of live relays which has time and again hooked me into the Proms this year. My personal challenge has been to listen or attend as many of the Proms as I possibly can. Catch-up via BBC iPlayer Radio is allowed in the self-imposed rules of my personal Proms challenge (this year I've also found Radio 3 Interactive's clipping up the works without the commentary invaluable too). Just as it did nearly 10 years ago when I started at the BBC, I still get a thrill from being at home in South East London and listening to an event going on a few miles away in a concert hall in central London. Live is cool.
I've attended on a few occasions too – the Proms is my World Cup, only I get to see it every year instead of having to wait four. This week's visit to see the BBC National Orchestra of Wales play a violin concerto by Welsh composer William Mathias and British violinist Matthew Trusler, making his debut at the Proms. In the second half BBC NOW brought us Elgar's first symphony. A work which for me opens with a captivating yet ambiguous theme, typically Elgar in its stateliness, and one which over the length of the entire work develops into something breath taking and deeply moving.
There was one moment, when my plus-one and I looked at one another. Neither of us was expecting to be feeling quite as emotional as we both later admitted we did. It came about because of the music somewhere in the third movement, music made by approximately one hundred musicians in the Royal Albert Hall under the direction of conductor Mark Wigglesworth. When I look at an orchestra and its conductor with an objective eye, I see nothing but risk. So many things could go wrong. There are so many balls which have to be kept up in the air in order for us to begin a piece of music and arrive at the end together.
Yet here, just as in any other concert, musicians come together and produce something on stage in front of 5000 people that has the potential to take them to an entirely different, totally unexpected place. The musical equivalent of being shown into a perfectly decorated room in the house you've lived in for 25 years, a room you had no idea existed and being told by the guide 'this is yours, you can keep it like this if you'd like'. And that orchestral experience is a live one. And not only that, it is broadcast live. Oh, and it's available on iPlayer Radio, of course.
Jon Jacob is Editor, About the BBC Website and Blog.