Once a globally feared disease, polio has largely been eradicated around the world. In Afghanistan, however, the disease is still endemic, and despite the existence of a nationwide scheme to eradicate the disease, over half a million children remain unvaccinated and at risk.
At BBC Media Action, the BBC's international development charity, we've been working with Unicef in Afghanistan to try and halt the spread of polio. We use media to inform and engage caregivers about the risks and promote vaccinations to protect those most vulnerable to the disease: children.
Before starting the project, we conducted research with our target audiences in Afghanistan – parents, caregivers and community leaders – to understand their media habits, the kind of programmes they like, and the sources they most trust. It revealed that drama is very popular in Afghanistan, that radio was the most accessed media platform in the country, and that religious leaders and health experts were trusted communicators.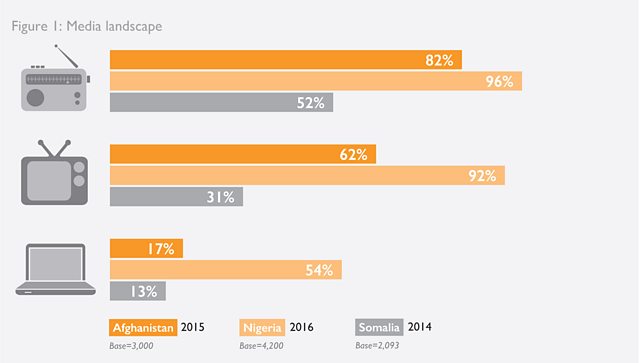 As a result of the research, we produced Ghamai (meaning 'jewel'), a weekly Pashto radio show featuring drama, special reports and interviews with health experts and others to help give people in Afghanistan the information they need to keep their families happy and healthy.
The show is broadcast on a range of local radio stations, as well as through the BBC World Service, to make the content accessible, even in remote communities.
One of the main problems leading to parents not vaccinating their children was misinformation. In our research, people spoke of rumours that vaccines are a conspiracy, that they contain harmful contents or are ineffective – in addition to general uncertainty as to whether Islam permits vaccination against the disease.
To tackle these rumours, we brought in trusted figures such as religious leaders and doctors to feature on Ghamai to address the issues head on. By ensuring the show was family-friendly, we also managed to engage people who were sceptical by encouraging discussion among family members.
We recently completed research into the impact of Ghamai, as well as research into similar polio eradication projects we run in Nigeria and Somalia, and the findings indicate that our polio-related programming has been very effective.
Our recent research shows that listeners discussed what they learned from the programme with their neighbours and local leaders, beginning to build up community trust in the vaccinators. Our results also indicate that Ghamai helped to quell harmful rumours and misconceptions, with some respondents saying that listening to the show had motivated them to vaccinate their children.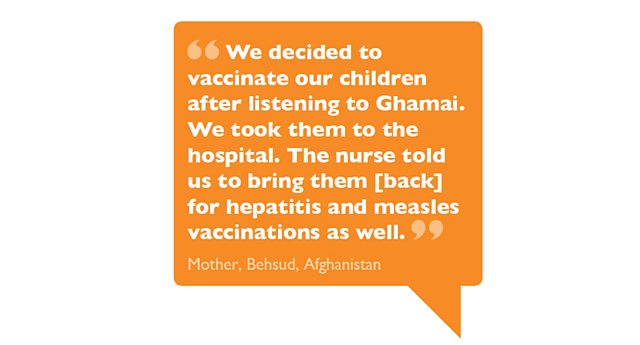 I think the success of the project relies a lot on the quality of the content and the trust people had in the show. By addressing barriers to polio vaccination and conducting research around motivators and communication habits, we were able to make Ghamai resonate with our audiences.
It's incredibly rewarding to know that our work at BBC Media Action, in partnership with Unicef, is helping to keep children safe and to move towards a world where polio is eradicated once and for all.
Find out more about BBC Media Action here.