It's been an amazing two weeks at Sochi, with millions of you tuning into our Red Button coverage of the Winter Olympics. We all now #lovecurling, we're dazzled by our young snowboarding stars, and we've exceeded our three-medal target for the Games to boot. Well done Team GB!
Sport highlights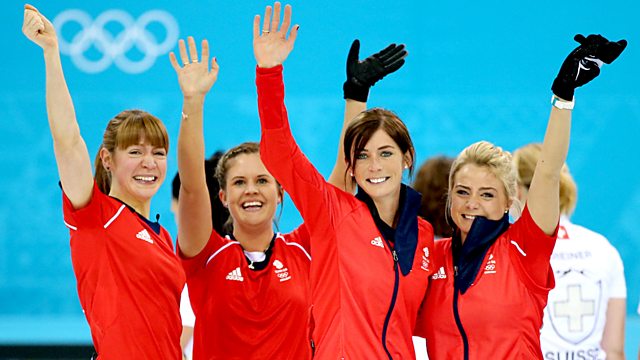 GB's women's curling team celebrate their bronze medal
Coming up this weekend we've got continued coverage of the final two days of the Games - you can find listings of what's on Red Button each day here on the BBC Sport website. If you can't bear to say farewell after Sunday's closing ceremony, we've got continued highlights of the games playing on Monday and Tuesday.
There's more for sports fans - tune in on Saturday for our popular Final Score show and stay on cue from Monday as the Welsh Open Snooker returns to the Newport Centre. Plus we're gearing up for the World Track Cycling Championships with live coverage from Columbia from Wednesday.
Find out more from BBC Sport Online about what's on and how you can follow it on the BBC.
Folk Awards Highlights
Mark Radcliffe and Julie Fowlis present highlights of the 15th annual BBC Radio 2 Folk Awards at London's Royal Albert Hall, with performances from New York singer-songwriter Suzanne Vega, folk big band Bellowhead and lifetime contribution award recipient Martin Carthy with his daughter Eliza Carthy.

Tue 25 February, 8pm-6am
Wed 26 February, 6am-7am, 8pm-11.50pm
Thu 27 February, 2:25am-7:00am, 8:00pm-11:20pm
Fri 28 February, 3am-7am, 9.30pm-10pm, 10.30pm-11.20pm
Sat 1 March, 3.25am-6am
Dumping Ground extra
If the kids are off school for half-term, you'll be delighted to hear you can press red this week for Dumping Ground goodies from the latest series.
Available on Sky, Freeview:
Tue 25 February, 10am-1pm, 4.50pm-7pm
Wed 26 February, 7am-1pm, 4.50pm-7pm
Thu 27 February, 7am-1pm, 4.50pm-7pm
Fri 28 February, 7am-1pm, 4.50pm-7pm
Don't forget to follow @BBCRedButton on Twitter for updates on all our services, and for help and information visit www.bbc.co.uk/redbutton