At 5.33pm on Wednesday 14 November 2012, the BBC broadcast a specially commissioned 3 minute soundscape produced by Damon Albarn. 
The piece - conceived as a radio moment to celebrate 90 years of BBC Radio - overlayed contributions from members of the public with iconic clips from the radio archive. A special track for a special birthday party. 
A quick scoot around the Twitter and mainstream media write-ups about the 3 minute link-up across (nearly) all of the BBC's radio networks reveals some enthusiastic responses, some love and some bemusement, with James Cridland for example questioning whether 14 November 2012 was the correct date to be celebrating 90 years of BBC Radio at all.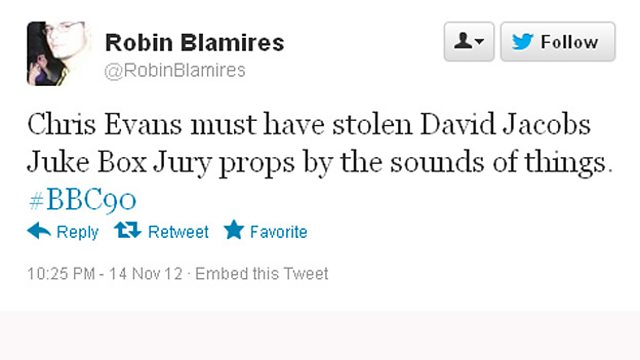 Elizabeth Mahoney wrote in the Guardian about the piece: 
"'2LO Calling' will have done nothing to dent the notion that the UK is often creative to the point of eccentricity and beyond.
"However barmy it was, however uneven in tone, it will have got everyone who listened to it talking. For a medium whose demise has so often been predicted over the decades but which stubbornly continues to flourish, that's a fitting birthday tribute.
The Independent's Nick Hasted took a different view:
"As a collage or piece of musique concrete, '2LO Calling' is unlikely to be played much in 9 days' time, let alone 90 years. But it's still admirable, first for the symbolic coup of its extraordinary broadcast; and for the few seconds when Albarn makes his sonic coup of splicing radio's pips with his own haunting notes."
If you haven't already, take a listen to 2LO Calling via the Radio Reunited website. Share your thoughts by leaving a comment below. Our colleagues on the Radio Blog have also published a collection of tweets, comments and pictures. We've embedded it below. 
Jon Jacob is Editor of the About the BBC Blog
Along with 2LO Calling available on the Radio Reunited website, there's also a full breakdown of the components mixed together in the piece over on the Radio Blog.
Director of Distribution Alix Pryde has written on the history of radio here on the About the BBC Blog.
Our BBC History experts John Escolme and Robert Seatter have also produced a special interactive timeline exploring 90 years of innovation of the History of the BBC.