Last week's Ten Things author, Hannah Khalil was quick to come up with a suggestion for this week's post. "Your challenge if you choose to accept it is … write about 'ten things' about traditions, Christmas-related or otherwise."
Easy, huh?
Theoretically, yes. Eight of the following seemed almost to write themselves. I'll leave you to guess which.
1.     Saying Goodbye
It's just a few months now before the final members of staff move out of BBC Television Centre in London. For staff and licence fee payers based outside of London, such focus on the BBC's iconic home must surely seem a little tiresome. But for those of us based here, 'TVC' dominates not only because of its size but also because for many of us it was the building which stoked our imaginations, in turn establishing the unique and often resilient bond with the BBC.
But now, as more and more staff move out, so once busy corridors are left silent. TVC is increasingly becoming a shell. Wandering around it now, the building takes on an entirely different life. Little wonder former TV continuity announcer (now Radio 4) Zeb Soanes did what a great many others are setting aside time to do: marking a fond-farewell to the building. I've blocked out my diary a week Monday. I'll be taking a camera and a box of Kleenex.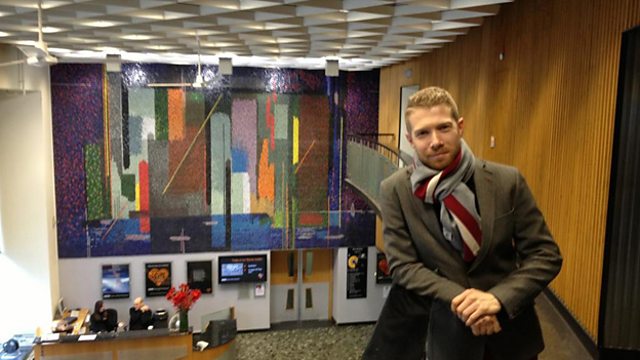 Zeb Soanes says farewell to BBC TV Centre
2.     Saying Good Riddance?
Next to Radio 4's Broadcasting House which this week broadcast from Television Centre for the last time. One of the most weirdly satisfying contradictions in BBC-land (depending on whether you have a dysfunctional sense of humour like mine) is how a radio programme that establishes an image of a building in the mind of the listener isn't its real life home. For years I used to think gruffly on Radio 4 for duping its audience in this way. 
Now I think differently. This I suspect is much to do with the ongoing creative vision of the production team. I spent a few weeks 'shadowing' on programme production meetings and witnessed how ideas for the programme are developed in such a short space of time. It is a thing of beauty to observe for those of us who find it all too petrifying to actually participate in. It's how I imagine watching a gripping football match would be if only I was actually interested in football. 
So the idea that BH the programme is now – finally – moving to its natural home is tinged with a certain sadness over and above the reality that more and more people are moving out of Television Centre. This is the end of an era not just for BH but for other programmes in radio news. BH editor Ryan Dilly and presenter Paddy O'Connell gave off a whiff of celebration about the affair seeking out anecdotes from colleagues on PM, Today and World at One earlier this week. The full version broadcast on BH is absorbing. The shortened version featuring pictures from Ryan is well worth a look.
3.     About the red lanyard
Next a fast-emerging tradition. The red lanyard. Some staff have blue ones, a lot have blue ones but an increasing number have red ones. (A comparative handful of staff have green ones – they're the first aiders). Blue denotes those who have access to Television Centre, White City and other buildings across the country. Red shows you've been on a special induction course to gain access to New Broadcasting House in London. Without wishing to appear too London-centric (again), attending the induction session and obtaining a red lanyard is a sort of rite of passage, like membership of a special club. A tradition, sort of? Does that count?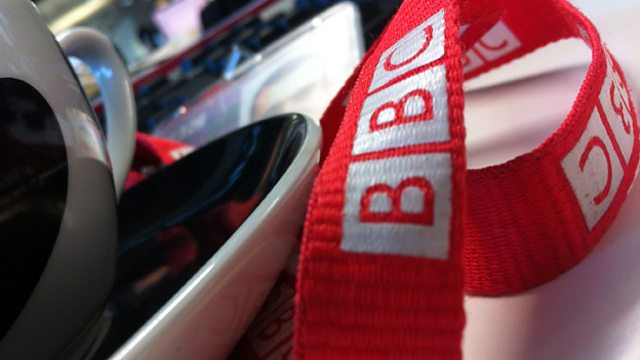 The much-coveted red lanyard
4.     Tradition, Obsession or Confession?
That rite of passage and BH's move to New Broadcasting House leads me nicely on to something approaching more of an admission.
As I write, I'm on the seventh floor of New Broadcasting House. It's considerably noisier over here than my normal desk in the Broadcast Centre in West London. Colleagues talk about things I don't understand in the 'corridor' next to my temporary desk. The carpet is soft underfoot. Sometimes I bristle with excitement when I see John Wilson wander past. And the kitchen (where I don't have to wait for the kettle to boil because there's boiling hot water on-tap) is just a few steps away. Bliss.
But all of this is nothing to the emerging personal tradition I find myself following every time I leave New Broadcasting House: a lift down to the second floor where I exit the lift, turn right and test my ID pass against the security scanner outside the door to the newsroom. Will it still work? Can I still get into the newsroom? The light goes green and I'm in. And of course ... now I've been observed stepping into the newsroom, I can't now leave because that will look a little strange. Which then means I have to walk quickly down the new spiral steps, down into the engine room of the BBC. And for a few split seconds I dream. Maybe one day, maybe one day.*
* If it transpires I can no longer gain access to the newsroom as a result of this post, I'll let you know.
5.     Jumpers
It's not all London in this blog post. No way. After last week's announcement of Christmas on the BBC it was only a matter of time before our colleagues in chilly Glasgow retrieved the Christmas jumpers from the cupboard and started distributing them to needy members of staff.
Our particular favourite is this of adorable BBC Scotland weather ladies Sarah & Judith who we think look smashing in their knitwear.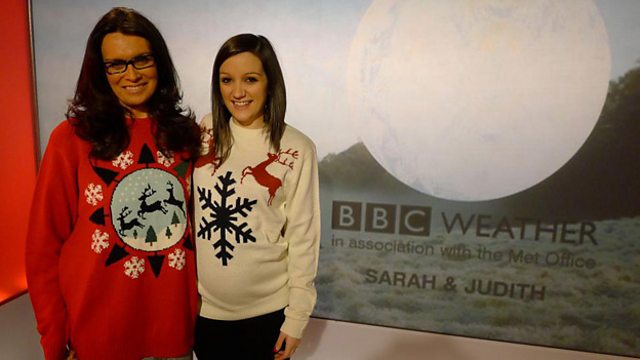 Weather ladies Sarah & Judith in their festive jumpers
It's probably worth pointing out that BBC Scotland haven't purchased a job-lot of jumpers. Not only are they one-size fits all, but there's also only one pair of jumpers donned by presenters and even receptionists Lesley and Karen. I've put in a request for the white one should no-one else claim it. More jumper silliness to be found on BBC Scotland's Facebook page.
6.     BBC Philharmonic Presents …
Not exactly a tradition. More a series … or the end of a series .. which is a sort of tradition with a finite end, isn't it? (I figure there should be one item on this list of ten things which fits uncomfortably with everything else. Crowbarred in, some might say.)
The BBC North MediaCityUK-based orchestra finished their series of BBC Philharmonic Presents concerts for Radio 2 this week with a much-heralded collaboration with the Pet Shop Boys. It's available on iPlayer for seven days and will no doubt raise a smile for anyone of a certain age who goes misty-eyed whenever they hear West End Girls on the radio.
Take a listen, not least for the chance to hear the incongruity of the word 'Cambridge' in the lyrics to one of PSB's new songs (on a par with Abba's use of 'Glasgow' in Super Trouper.)
No news yet on whether the BBC Phil has any plans to partner with Status Quo. As soon as I know, I'll pass it on, of course.
7.     Advent Calendar
Back to Christmas and the About the BBC Twitter account. During a recent high-level meeting with colleagues, tea and biscuits, I discerned a ripple of excited approval for the About the BBC advent calendar we started on the 1 December.
Far from original – nearly everyone across the BBC seems to be doing one – but we're rather enjoying plucking some gems from the archive and across online. Look out for a special item from Delia Smith in her early days. Windows unveiled so far include biscuit making, Radio 3's Advent Choral Evensong and a Blue Peter Christmas sequence from 'The Funny Side of Christmas' a couple of years back.
8.     A Digitised Radio Times
Like the BBC Proms programme database before it, the BBC's Genome Project has completed on digitising archived copies of the Radio Times. For those of us with a weakness for nostalgia, the opportunity to embark on the Christmas-related tradition of thumbing through the Christmas edition from years gone by is too good to miss. Once I've gained access to the database I may be some time.  
9.     A Christmas Advert
Like the Christmas Radio times and Christmas TV 'idents' (we'll have a post about them from a former continuity announcer next week), the Christmas trailer is something of a BBC tradition. I'm happy to confess I rather liked seeing Fiona Bruce bouncing across the screen wearing reindeer ears in last year's advert. This year's trail features Rob Brydon and Sarah Alexander gathering together a wealth of stars for Christmas on BBC One. I include it in this list because I really like it. That might be because it reminds me of Record Breakers' Christmas pantomimes from yesteryear.
10.     Lunch
No surprises then that the last of this week's ten things relates to food. This post has taken a long timeto write and I haven't had my lunch yet. We're no different from any workplace, after all. And whilst Fridays would normally be given over to paying homage to fish and chips, I'm off to the canteen in search of anything left from the seasonal menu which I hope looks a little more appetising than the offering Audio & Music exec Jem Stone was presented with last December.
Have a great week. 
Jon Jacob is Editor, About the BBC Blog