Today we embark on the next chapter in the story of BBC North as we welcome our first movers into our new buildings at MediaCityUK. They join the BBC Philharmonic who moved into their new performance space at the beginning of May and kickstart over thirty-six weeks in the single most ambitious staff move in the BBC's history.
What they will find, and you will discover when you visit us, are working spaces that have been designed to foster creativity. We are exploiting the latest technology both in our buildings and in the studios to remove the barriers that have traditionally hindered closer working between colleagues and departments.
As we begin to settle into our new homes, find our way around Salford Quays and get to know our neighbours, it's hard to believe that in just four years we have gone from pipe dream to reality. It's been an exciting journey and not without it's challenges and difficult choices for many people. Yet I think that we have arrived at an important crossroads. If we take the wrong turning, allow our enthusiasm and commitment to be lessened, curb our ability and willingness to take creative risks, create a fortress and not an open and honest environment, then it will be our audience who lose out.
I firmly believe that all of us, those moving from Manchester and London, as well as hundreds who are joining the BBC for the first time, will choose the right direction. Working together we can create a new BBC that will forge a new contract with our audiences across the UK, build stronger relationships with our partners and most importantly, continue to make the very best content for TV, radio and online.
It's something that we have been doing for some time now. We have invested millions of pounds across the North of England, from Newcastle to Sheffield, from Liverpool to Leeds in great programmes, digital content and truly memorable events. From the synchronised dancing of the Kirkstall Abbey audience at Frankenstein's Wedding...Live in Leeds and great dramas like South Riding, United and Eric & Ernie to the enchanting online adventures for young kids with Mr Bloom's Nursery, BBC North has played a part in showcasing the creativity, talent and diversity of this region to the whole nation.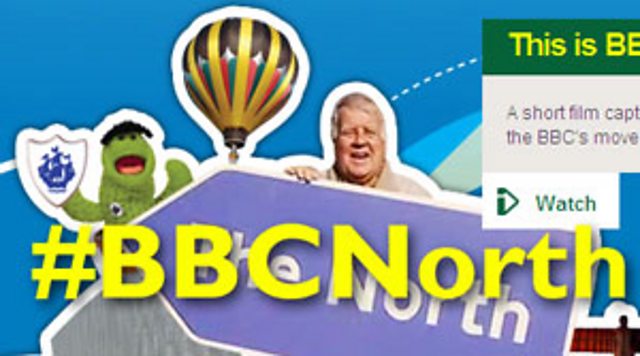 Visit the BBC North web site
Yet this is only the beginning. Last week we announced BBC Philharmonic Presents, a major new festival here at Salford Quays. For the first time in the BBC's history, all of our major radio networks will support and broadcast live from the orchestra's new home. From dubstep to church music, each night will be music night as local residents enjoy these concerts absolutely free. And following a summer of events across the piazza, bringing to life some of our most loved Children's BBC brands, at the end of the year sport is coming home with the live broadcast of the the fifty-eighth Sports Personality Of The Year from Salford Quays.
And alongside the new people that we will be employing across all the departments that will be based at Quay, Bridge and Dock house, we plan to make a real and long-term difference through our new apprenticeship and ambassador schemes.
And to mark the opening of our buildings today we are launching the online tools for people to find out what is going on behind the glass as well as tell us what they think. A BBC North web site and a Twitter account will hopefully become destinations that will engage with people and encourage them to join us on the journey and help us furnish our new home with fresh ideas and suggestions.
So as we throw open our doors, we face an exciting future. Of course we can expect a few unexpected bumps and scrapes, but let's not forget, home is where the state-of-the-art is.
Peter Salmon is Director, BBC North