"Are you here for the radio thing?" asked the hotel concierge, clocking the panicked expression on my face. "Yes," I replied, "I'm a little late."
When you receive an invite for something that starts at a particular time – in this case, a question and answer session with members of the production team from the radio adaptation of Neil Gaiman's brilliant Neverwhere – there's an implicit pressure to make sure you're there on time. It's almost as though the what you're attending is an event with a wholly immovable deadline; the real life equivalent of watching the likes the Six O'Clock News or an edition of Great British Bake Off without the indulgence of a PVR to record the beginning in case you miss it. "Skip the coffee, be sure you're there for the beginning of the Q&A", is what I told myself. I made off in the direction of the stairs the concierge helpfully pointed to, "it's down there," he smiled. Clearly a number of others had arrived in a similarly panicked state before me.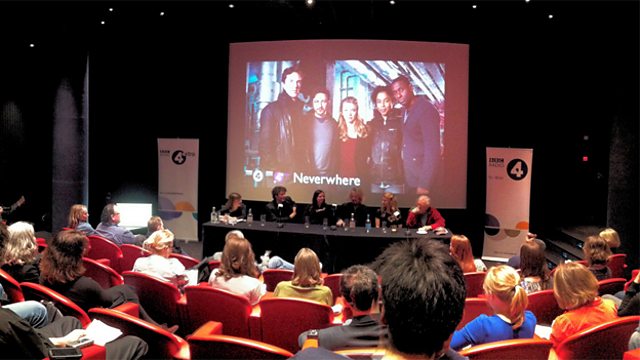 Radio 4 Neverwhere Press Launch
Once located, the basement theatre of the Soho Hotel where this special 'screening' of Gaiman's  popular comic book-esque drama about a subterranean London made total sense. As the lights dimmed and a clip from episode one boomed out from the speakers, so the episode title was projected onto the screen: "London Below … " This wasn't just a press launch, this was quickly feeling like a carefully selected pseudo site-specific broadcast.
It is the oddest way to listen to radio. I don't remember the last time I've sat in a darkened room with fifty-odd other people staring at the grey outlines of the cast who feature in the radio drama I'm listening to. It's the anti-thesis to the variety of different ways we all consume radio whether its listening while ironing (director Dirk Maggs and actor Natalie Dormer's preferred method), listening in the car (writer Neil Gaiman later explained that the acid-test for any good radio drama was whether it prompted the listener to remain in the car with the engine running until the end of the episode) or listening while we cook. Such events as this morning's press launch turn radio into something approaching a cinema premiere. A buzz emerges from the audience: people applaud at gracious introductions, laugh heartily when treasured actors like Bernard Cribbins crack a joke or hang off the words of the heroes sat in front of them. It's all .. very pleasant really, a bit of an indulgence and most important all, elevates the previously unfamiliar into something un-missable.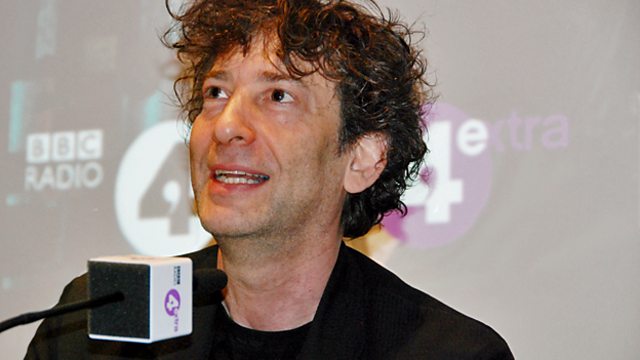 Neil Gaiman
Gaiman's popular adventure into the depths of London Below – first written for BBC TV in the 1990s and now in its third incarnation in radio drama format – is perfect for radio. As character Richard Mayhew descends into the subterranean world, so we follow into our imagination. And sound engineers love imagination. Dirk Maggs (director) described the challenge he faced in condensing two pages of dialogue describing Knights Bridge into 30-odd seconds of music, attempting to visualise what was in his head for someone who was listening. No mean feat but a creative opportunity no sound engineer would want to miss out on: demanding more than just a dull cross-fade into the following scene. Little wonder Maggs described the finished 3 hour radio production earlier today as an 'audio movie'.
Scheduling the episodic dramatisation across two networks is unusual. Radio 4 will broadcast the first 60 minute episode, Radio 4 Extra episodes 2-6. Do we take our two networks of speech and drama output for granted? Possibly. At the very least, we forget that not every country across the world has it, something Neil Gaiman touched on during the Q&A session. Describing the emerging fascination with Radio 4 and Radio 4 Extra amongst outside of the UK, Gaiman said, "they're asking me in the States, 'I know this Radio 4 is happening, but how do I listen?'" adding, "They're coming to Radio 4 because they're baffled such a thing actually exists.'
But more than the benefits for the networks, or the fact that a compelling aural representation of a TV drama-come-novel written by a much-loved author was soon to be broadcast, this morning's press launch delivered something quite unexpected. It threw light on an aspect of radio drama few of us consider because we don't usually have an opportunity to see it.
When producer, director, writer and members of the cast smiled in recognition whenever they listened to the extracts played out to the audience sitting in front of them, we witnessed something a bit special. We the audience were treated to an unexpectedly intimate experience, observing people who had worked on a two year long project which clearly meant a great deal to them – this wasn't 'just another gig'. When producer and director Heather Larmour explained, "when the cast said yes, I was a like a small child in a candy store", her enthusiasm and pride was as sincere as it was infectious. Amid the wealth of output Radio 4 and Radio 4 Extra broadcast, these simple but easy to overlook moments made the forthcoming broadcast across both networks all the more tantalising. 
Jon Jacob is Editor of the About the BBC Blog and website. 
Episode one of Neverwhere starts on Radio 4 on Saturday 16 March at 2.30pm with subsequent episodes broadcasts on Radio 4 Extra.
Digital Spy reported on the event earlier today; Den of Geek wrote about the series late in February. Radio Times have published some exclusive pictures of the cast, of which a cast list can be found on Neil Gaiman's blog.